A Decade of Mediocrity Is Making Australia's Economy Look Like Japan's
(Bloomberg) -- Australia's economy risks turning Japanese, with average growth over the past decade the slowest since 1984 and inflation at the weakest since the Beatles were together.
"Once this becomes entrenched, it gets hard to break out of it -- as Japan has found," said Shane Oliver, chief economist at AMP Capital Investors Ltd. in Sydney. "We're not quite as bad as them because they've had deflation and zero rates, but there is a risk that the longer this goes on the harder it will be to get inflation back up to average."
While growth this year has accelerated and unemployment has fallen, the weaker longer-term performance of Australia's economy helps explain why wages are stagnant and interest rates are stuck at a record low.
Australians are accepting pay rises at around half the 4 percent rate achieved last decade as they prioritize job security, and are only spending at retailers that discount. That's spurred the central bank to leave its cash rate at 1.5 percent for more than two years to try and tighten the labor market so companies have to offer higher pay.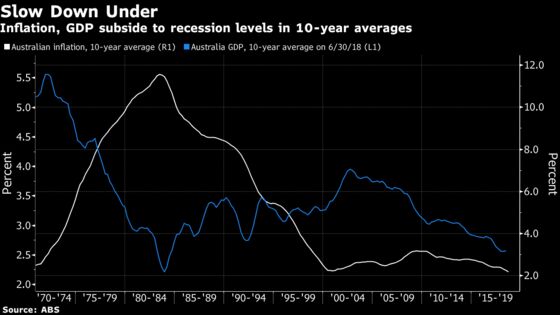 Australia has become a victim of its own success -- its avoidance of recession for 27 years partly explains the prolonged period of weaker growth. It was a double-dip recession back in 1982-83 that spurred 15 years of economic reform, which included floating the currency, financial liberalization, privatization and taxation overhaul. Little reform has taken place since.
"The norm was you'd have a recession, it would cause pain but then we'd get this deep-V recovery that would quickly put the economy back onto a stronger trend," Oliver said.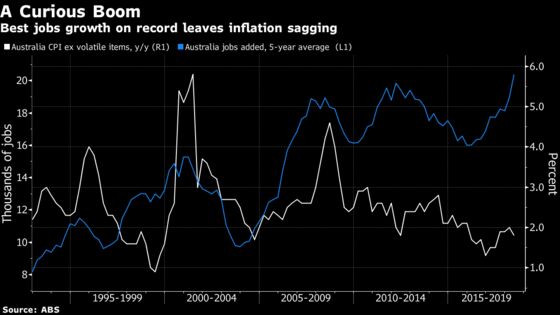 When the economy emerged from its last recession in 1991, household debt was low and as interest rates declined, people were able to borrow more. And they did with gusto: Australians are now among the world's most indebted.
"Growth over the past 25 years has been aided by the rise in the household debt-to-income ratio," said Saul Eslake, an independent economist who has parsed Australian data for over three decades. "That's something which appears now to have reached its upper limit."
The economy is better placed on unemployment, which has dropped to 5 percent -- less than half the level following the last recession. But after accounting for workers who want more hours, the under-utilization rate jumps to 13.3 percent, which is high compared with much of this century.
The past decade also follows the global financial crisis, which saw households and businesses turn cautious; and the economy has had to absorb the hangover from the end of a China-fueled mining investment boom. The risk is that slow growth, weak inflation and low wage-gains become the norm.
"The workforce seems to have become content with lower wages," Oliver said. "It's become part of the furniture, it's become accepted. That's what happened in Japan."