China Pledged to Buy Billions of U.S. Goods, But The Math Isn't Adding Up 
China's $200 billion, two-year spending spree negotiated with the Trump administration appears increasingly difficult to deliver, with more than $50 billion of U.S. exports annually left out and many American businesses still uncertain about just what the expectations are.
While U.S. officials have stressed the reforms aimed at curbing intellectual-property theft and currency manipulation that China has agreed to in the "phase one" trade deal signed Wednesday, the Chinese pledge to buy more American exports has become an emblem of the deal to critics and supporters alike.
The administration has said those new exports in manufactured goods, energy, farm shipments and services will come over two years on top of the $130 billion in goods and $57.6 billion in services that the U.S. sent to China in 2017 -- the year before the trade war started and exports were hit by Beijing's retaliatory measures to President Donald Trump's tariffs.

But the list of goods categories in the agreement covers a narrower group of exports to China that added up to $78.8 billion in 2017, or $51.6 billion less than the overall goods exports to the Asian nation that year, according to a Bloomberg Economics analysis of the data. The goods trade commitment makes up $162.1 billion of the $200 billion total, with $37.9 billion to come from a boost in services trade such as travel and insurance.

The target for the first year that the deal takes effect is to add $63.9 billion in manufactured goods, agriculture and energy exports. According to Bloomberg economist Maeva Cousin's analysis, that would be an increase of 81% over the 2017 baseline. In year two, the agreement calls for $98.2 billion surge in Chinese imports, which would require a 125% increase over 2017.
Importantly for China, the accord requires those purchases to be "made at market prices based on commercial considerations," a caveat commodities markets in particular have seized on.
Bloomberg Economics: 81% Import Goal Spells Risks to Trump Trade Deal
The office of U.S. Trade Representative Robert Lighthizer, Trump's chief negotiator, did not respond to questions about the purchase commitments on Thursday. The administration has, however, insisted that the buying, along with the rest of the deal, is subject to an enforcement mechanism.
Trump and his backers view the purchases as a well-deserved bounty for American farmers and manufacturers after decades of Chinese-made goods flooding the U.S., portraying Beijing's promises almost as reparations. "Together, we are righting the wrongs of the past and delivering a future of economic justice and security for American workers, farmers, and families," the president declared on signing day.

Critics argue that such pre-ordained demand amounts to a slide into the sort of government-managed trade that U.S. presidents abandoned decades ago and the very sort of act of central planning U.S. officials have spent years trying to convince China to walk away from.

The purchase plan is based on what the administration insists is a specific -- though classified -- annex of Chinese commitments. The 20-page public version of that annex lists hundreds of products and services from nuclear reactors to aircraft, printed circuits, pig iron, soybeans, crude oil and computer services but no figures for purchases.
Testing Targets for Increase in Chinese Imports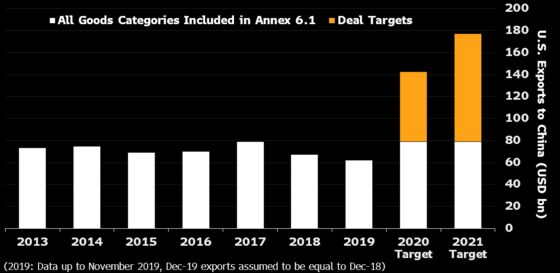 Business groups have stopped short of calling those targets unachievable. But they have made clear they may never be met.

"This is ambitious and it will create some stresses within the supply system," said Craig Allen, the president of the U.S.-China Business Council.

Among the questions remaining, Allen said, was whether China would lift its retaliatory duties on American products because U.S. tariffs will remain on some $360 billion in imports from China as Trump seeks to maintain leverage for a second phase of negotiations.

Allen also made clear the overall purchase schedule left many U.S. companies uncomfortable even as they saw benefits in other parts of the deal. "The vast majority of our members are looking for no more than a level playing field in China," Allen said. "We are not looking for quotas or special treatment."

The deal details commitments to lift non-tariff barriers on many agriculture imports such as chicken and beef and ease the way for the approval of genetically modified crop strains that have taken years in the past. It also will open up the market to credit card companies, ratings agencies and insurers. All those things should encourage trade.

But for many manufacturers, what is changing remains less clear.

Major exporters such as Boeing Co., whose CEO Dave Calhoun attended Wednesday's signing ceremony, have largely stayed mum about what exactly the deal will mean for their business with China.

Trump has tweeted that the deal includes a Chinese commitment to buy $16 billion to $20 billion in Boeing planes.
But in a statement welcoming the deal, Boeing would only say that it was "proud that Boeing airplanes will continue to be a part of this valued relationship" with China, which is its largest international market, accounting for $13.8 billion in sales in 2018.

While the People's Republic hasn't ordered Boeing aircraft since 2017, Chinese airlines have continued to take new aircraft from Boeing and U.S. lessors. But deliveries to China tumbled to just 45 aircraft last year from 192 jetliners in 2018 amid the trade war and after Boeing was barred from shipping the 737 Max due to a global grounding imposed after two fatal accidents.

German carmaker BMW is one of the most likely candidates to benefit from a Chinese commitment to buy U.S.-made vehicles. It exported 81,000 vehicles to China from its plant in South Carolina in 2017 and saw that number fall to just over 46,000 last year, with much of that decline coming because it started production of its X3 in China.
But the carmaker declined to comment on how the new deal may change its export volumes to China. In the past it has put the cost of the trade wars at 300 million euros in 2018 alone.
The text specifically includes "nuclear reactors" on the list of products to be bought by China, which is building more nuclear capacity than any other country according to the World Nuclear Association data. China's plans include at least four reactors using the AP1000 design from Westinghouse Electric Co.
However, China said last year that it was starting to favor a homegrown reactor design for new power plants. And Westinghouse, which went bankrupt in 2017 and was later bought, has said it is now more focused on supplying components and taking apart decommissioned reactors than on selling reactors.
"I remain skeptical of any significant U.S. exports of nuclear technology to China except for possibly fuel for the AP1000 reactors," Chris Gadomski, BloombergNEF nuclear analyst, said by email. A Westinghouse spokeswoman said Thursday she wasn't even aware that the deal included nuclear reactors.
Intriguingly, Trump's new China pact includes plans for exports of American iron and steel, a potential gain for an industry close to the president that has benefited from his tariffs and complained about Chinese production and overcapacity for years.
The text of the agreement lists iron and steel products ranging from pig iron to stainless steel wire and railway tracks, but steel industry sources said they had been caught by surprise and not been given any additional details on China's purchase commitments.

U.S. Steel Corp. and Cleveland-Cliffs Inc. -- the biggest U.S. iron-ore producer -- declined to comment. China produces more than 50% of the world's steel, and has drawn criticism from around the world for flooding global markets with cheap steel.