A $400 Billion Wave of Japanese Cash May Be Heading Overseas
(Bloomberg) -- Japanese investors faced the first trading day of a new era on Tuesday with fresh eyes, but the same old problem -- where to put their money given rock-bottom interest rates.
They are expected to receive 44 trillion yen ($398 billion) in Japanese government bond redemptions in the fiscal year that started last month, according to JPMorgan Chase & Co. strategists Tohru Sasaki and Maoko Ishikawa. With an extended Golden Week holiday out of the way, investors will look to deploy cash overseas, and that should weigh on the currency, they said.
"Most Japanese institutional investors refrained from taking their overseas investment positions, entering into a new fiscal year before this long-holiday because of concerns over possible sharp yen appreciation," they said. "Some investors may want to wait and see developments in trade talks between the U.S. and China, but most of them may not be able to wait and may start selling yen sooner than later."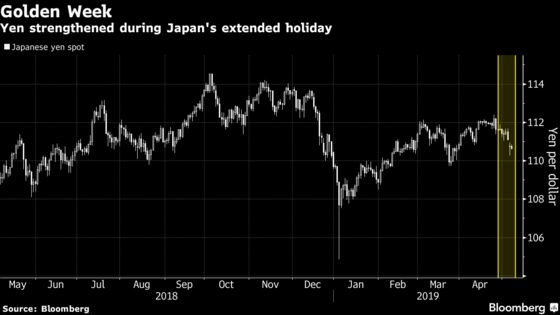 A look at 20-year Japanese government bond number 43 illustrates the dilemma for those who have been holding it in the run-up to its Sept. 20 maturity date. The security has a 2.9 percent coupon -- something scarcely available in Japan's bond market today, where the Bank of Japan targets 10-year yields at around zero.
While there will doubtless be some recycling of maturing debt by Japanese investors into new JGBs, insurers have been among those looking to diversify abroad -- read more about that here.
Such portfolio outflows may help explain why the yen hasn't gained much benefit from the Federal Reserve's dovish pivot this year, at a time when the BOJ has refrained from following suit. It also may feed into the limited moves seen this week as U.S.-China trade tensions flared. While the yen did benefit from a haven bid, its appreciation has been modest.
Japan's currency was at 110.59 to the dollar as of 10:57 a.m. in London, up only about 0.5 percent from last Friday's close.
A further breakdown in trade negotiations may become a major risk for JPMorgan's bearish yen view, but the bank's strategists see the currency staying under pressure.
"The yen will remain weak unless the trade talks end with a disastrous result for the global economy," they said. "We continue to think dollar-yen will appreciate to 114s in coming months."