A $278 Billion Brexit-Like Showdown With EU Looms Over the Swiss
From Zurich and Basel to the Lake Geneva region, Swiss makers of everything from prosthetic knees to hearing aids have been put on notice.
Come May 26, the country's medical-technology companies won't be able to freely export their wares to the European Union like they've been doing for years. Instead, they'll be knocked down to "third country" status, requiring them to establish a representative within the bloc and meet the EU's product-labeling specifications, while also saddling them with other red tape.
That makes the sector the latest pawn in the high-stakes war of attrition between Brussels and Switzerland -- not unlike Britain's acrimonious Brexit battle with the 27-country bloc -- that is putting a 250 billion Swiss franc ($278 billion) goods-trading relationship at risk.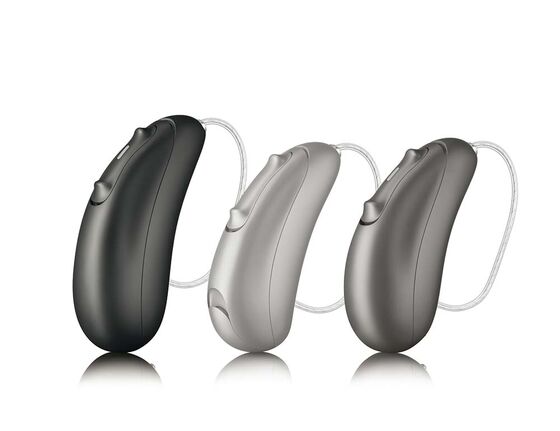 The failure of the two sides to reach a new umbrella political treaty to replace a hodgepodge of individual arrangements governing their relations is turning into economic death by a thousand cuts for the Helvetian nation as it faces increasing barriers to the single market. A further deterioration in ties with the country's biggest export destination could hurt its electricity market, its industrial companies or its banking sector, which is keen to win more cross-border business with the EU.
"It's a minefield that unfortunately gets rolled out in front of us," said Rene Schwok, a professor of political science at the University of Geneva. "Each one of these mines will explode."
At the heart of the problem is a "framework agreement" unveiled in 2018 to simplify ties between the EU and Switzerland. It is meant to be the basis for Switzerland's continued access to the single market, building on deals on everything from agriculture and civil aviation to immigration -- some negotiated decades ago.
Trouble is, the framework agreement is unpopular in Switzerland, with nationalists worried their country will lose its independence and trade unions concerned the pact would lead to an influx of foreign workers and erode high local wages. As a result, the Swiss have not signed on to it and have continued to muddle through with bilateral treaties.
Much at Stake:
More than 80% of FDI to Switzerland came from the EU in 2018
Some 1.4 million citizens of EU countries live in Switzerland, with a population of over 8.6 million
Half of Swiss goods exports are destined for EU countries
The mutual recognition agreement between Switzerland and the EU removes technical barriers to trade in goods and applies to medical devices, electrical equipment and other products. It covers around two thirds of the trade in industrial products between the two entities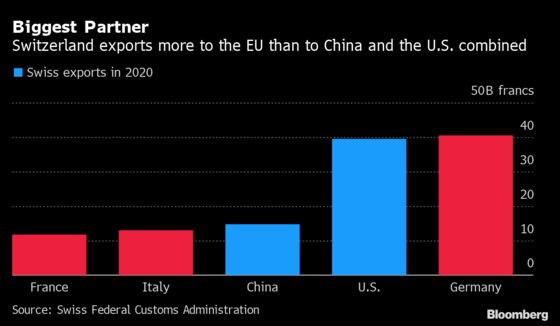 Already in 2019, Brussels tried to force the pact through by cutting Switzerland's access to EU stock trading. That failed, and now the bloc is upping the ante. Earlier this year, Swiss railroad operator SBB couldn't participate in an EU research program. And while the pandemic put things on hold, the EU is now turning its attention back to the Swiss issue, zeroing in on key economic sectors and seeming less willing to soften its stance after its Brexit experience.
"I don't really see the incentive for the EU to compromise, and that's related to Brexit," said Nicolas Veron, a senior fellow at the Brussels-based think tank Bruegel "With Brexit, the EU has had to think harder about what it means to be in the single market and what rights and privileges come with that."
Speaking at a panel discussion hosted by the Jean Monnet Foundation for Europe this month, Jacques de Watteville, formerly Switzerland's chief negotiator with the EU and now chairman of Banque Cantonale Vaudoise, said there's "a hardening of tone in the air."
There's also little to suggest Switzerland is budging. Officials in Bern face calls to pull the plug on the moribund agreement, notably from the anti-immigrant Swiss People's Party. While there's a campaign building to keep the deal alive, the government is warning that the two sides are still far apart.
"The proposals were considered insufficient by Switzerland, and for this reason the positions remain quite far away from each other," Andre Simonazzi, a spokesman for the government, said on May 12.
But the risks are immense. Switzerland enjoys privileged access to the single market via bilateral agreements, but that comes with obligations, according to an EU official familiar with the discussions. Currently, there's no mechanism for the dynamic and homogeneous application of Single Market law, no method for enforcing state-aid rules, and no dispute-settlement system, the official said.
Swiss Red Lines:
Switzerland wants to ensure it doesn't have to adopt the EU's state-aid rules
Guarantees that Swiss wages won't be undercut
Some don't want EU citizens to get easier access to Swiss social welfare payments if they lose their jobs
As talks between the two sides head nowhere, the med-tech sector -- which employs more than 60,000 people and accounts for nearly 3% of Switzerland's gross domestic product -- looks set to be the test case for the pain ahead. Although the government is taking steps to guarantee continued EU supplies to Switzerland, industry group Swiss Medtech estimates firms' product-development costs will rise 30% from hurdles to trade.
If industrial and pharmaceutical companies suffer a similar fate, that bill will total as much as 1.3 billion francs annually, think tank Avenir Suisse says.
Swiss business lobby economiesuisse is among those calling on the government to redouble efforts on the pact. Also, a poll this year by gfs.bern for the country's pharmaceuticals association found opposition to the deal had lessened and showed that it would pass if put up for a national referendum.
"If you think long term, you see only disadvantages in economic terms for both sides," said Jan Atteslander, economiesuisse's head of international relations. "For us, the damage is probably a bit bigger."