A $100 Billion Giant Is Spiraling and No One Cares: Taking Stock
(Bloomberg) -- Stocks are looking higher across the board on this Fed day, with the S&P futures sitting at overnight highs (up ~6 points) on headlines that China is planning to cut import tariffs on nearly 1,600 items starting in November. The iShares China Large-Cap ETF (ticker FXI), already higher thanks to the MSCI index weighting announcement, is getting bid up further to the tune of about 1 percent.
Sectors to watch today include the sporting apparel and footwear names off of Nike earnings (down ~2.5% pre-market, but bullish analysts are calling to buy the dip), homebuilders on the KB Home beat (up ~6%, though Deutsche Bank says guidance and commentary soften the positives to make their overall take neutral), and the auto retail names ahead of CarMax results (seems like every auto-related earnings has been a bust recently, from BMW's warning to results from BorgWarner, AutoZone, and Copart).
The semis could have another ugly day (SOX -1.7% on Tuesday) after a couple of cautious calls from the sell side (more on this below) while the pot stocks should be volatile after Tilray issued its almost-daily press release (shares up ~7%) and Citron's Andrew Left, a noted short seller, said he is considering starting a cannabis fund.
It's worth keeping an eye on all of the Internet and social media stocks as well as several executives from Apple and Amazon to Twitter and Google will sit before a Senate committee hearing on consumer privacy issues -- we're not talking Cook, Bezos or Dorsey on the stand, but nevertheless it's worth noting that the latter's grilling earlier this month did not bode well for his company's stock, or the rest of the FAANG family, thereafter.
GE Spirals Out of Control
I think it's time to issue a code red on General Electric, the near $100-billion market cap giant of American industry whose shares are spiraling lower with what appears to be no bid in sight. In the four sessions since JPMorgan's perma-bear analyst Steve Tusa issued another negative assessment ("another shoe drops" in reference to a problem in the Power unit), the stock is down more than 12 percent on some of the highest volumes seen since the turn of the year.
The move is astounding and horrifying if you're holding a long position -- but where is the noise about it? It seems like the market is too distracted to notice. Even on the sell side, where 23 analysts cover the name, we've hardly heard a peep in the past couple months as the stock continues to push through ground unseen in almost a decade.
It's tough to tell where the floor is here -- this was a $25 stock one year ago before things hit a rough patch that was exacerbated once the stock got kicked out of the Dow Jones just a few months back. It's now nearing $11, which means we're starting to get dangerously close to the 2009 lows, but first we'd have to reach Tusa's Street low price target of $10.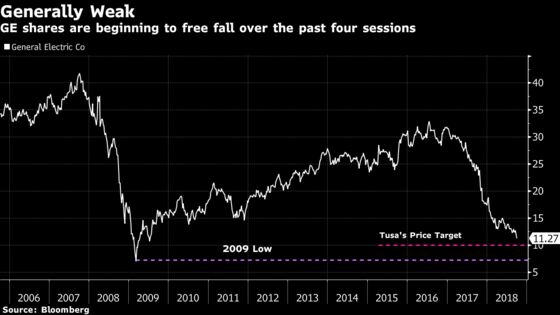 The Problem With Utilities
The enthusiasm in the utilities space that we saw in the beginning of the month is going out of style quicker than an out-of-the-money call option on a pot stock. Just in the past week, the sector has sold off nearly 4 percent to underperform every other group in the S&P 500, a stark difference to the 1 percent gain notched by the benchmark index.
The initial spillage last week was a reaction to the broader strength in the market and the thrust in the 10-year yield to above the 3 percent mark, which all makes sense as investors tend to rush to utilities for safety in a down market (in addition to other defensive sectors like the consumer staples) and for the dividend in a low rate environment.
But the 2.1 percent drop this week looks a bit out of character, or at least slightly exaggerated, considering the consolidated tape has done nothing but fall in the past two days (on relatively higher volumes) and the 10-year stalled out at the mid-May high water mark for the year at 3.11%.
The argument that the weakness can be directly attributed to elevated rates doesn't hold much water if you consider that the banks didn't get in on the action in the last leg up in the 10-year -- the BKX is actually down for three straight days -- not to mention the fact that the yield curve hasn't made any definitive gap in the past week to make market participants more confident that we'll see further steepening or a reversion to flattening.
So persistent selling regardless of the outside factors isn't a great sign for the utes. But today is FOMC decision day (click here for our preview), and even though today's hike is a given, any indication of what might happen in December could spark a reaction in rates that could instantly decide the near-term trajectory of group.
And if you're a chartist that doesn't subscribe to some of the aforementioned reasoning, you might be getting close to being trigger happy with the S&P 500 Utilities index approaching near-term support above ~260 as well as a 30 spot on the RSI, a signal that has subsequently led to immediate gains if you go by recent history.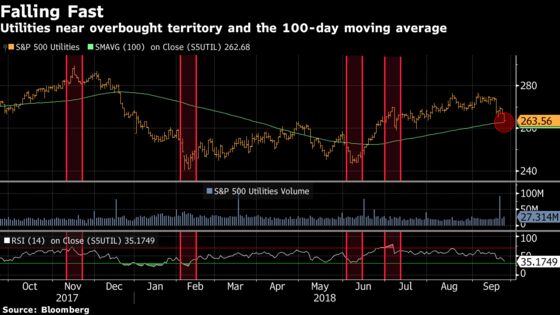 Notes From the Sell Side
Morgan Stanley's Katy Huberty slashes estimates for cloud-exposed companies to "bake in a more cautious view and see relatively more downside risk to memory demand from a build-up of DRAM inventory." Recall the firm downgraded the semiconductor sector in early August due to a laundry list of negatives, but cited cloud spending as an outlier given strength in 2018; after recent checks, they now see cloud capex growth moderating into 2019. The U.S.-listed stock to watch here is overweight-rated Seagate, as EPS and price target get reduced.
Staying in the semis, UBS is cutting wafer fab equipment forecasts (Citi did the same yesterday) after a tech tour in Asia and downgrading Lam Research to a neutral on the ongoing delays in memory wafer capacity expansion, particularly at Samsung. The bank is separately upgrading IBM as the market is pricing in a 2% revenue decline, which can be beat, and is applying virtually no value to the company's hardware business, which is unrealistic.
Two big calls in the natural gas space today: 1) Morgan Stanley says that we're entering into a new cycle of even lower natgas due to oversupply and demand stagnation; they cut their long-term price deck to $2.50 from $2.75, slash estimates on gassy E&Ps, downgrade Cabot Oil to equal-weight, and upgrade Cheniere Energy to overweight on LNG growth momentum; 2) Cowen is also out shifting ratings on LNG-related companies to favor those with existing operations, in turn upgrading Cheniere and downgrading NextDecade and Tellurian.
Tick-by-Tick Guide to Today's Actionable Events
Today -- Facebook hosts Oculus Connect (day one of two)
Today -- California Department of Managed Health Care has a public meeting to discuss Cigna's planned purchase of Express Scripts
7:35am -- KMX earnings
7:45am -- Ford CEO Jim Hackett on Bloomberg TV
8:00am -- NNBR investor day
8:30am -- ATU, WOR (roughly) earnings
8:30am -- Michael Bloomberg, IBM CEO Ginni Rometty, Ford CEO James Hackett, Baidu CEO Robin Li speak at Bloomberg Global Business Forum
9:00am -- KMX earnings call
9:30am -- SurveyMonkey IPO (SVMK) to start trading after the open
10:00am -- New Home Sales
10:00am -- GOOGL, AMZN, TWTR, AAPL, T to testify at Senate committee hearing
10:00am -- BAM, EVRI investor/analyst meetings
10:00am -- KO at Bernstein Strategic Decisions CEO Conference
10:30am -- DoE oil inventories
10:30am -- Senate committee hearing on impact of tariffs on auto industry
10:45am -- Goldman COO David Solomon, Citadel CEO Ken Griffin, BlackRock CEO Larry Fink, Credit Suisse CEO Tidjane Thiam, TPG co-CEO Jim Coulter, JPMorgan's Mary Callahan Erdoes at Bloomberg Global Business Forum
2:00pm -- FOMC rate decision
2:00pm -- UIS investor meeting
2:30pm -- Fed Chair Powell holds press conference
4:00pm -- CRM investor day
4:15pm -- BBBY earnings
5:00pm -- Trump hosts press conference
5:00pm -- BBBY earnings call
7:30pm -- PRU Tokyo investor day
9:30pm -- China Industrial Profits
Tonight -- IPOs expected to price: Urovant Sciences (UROV), Arvinas (ARVN), Sutro Biopharma (STRO), LAIX (LAIX), RA Medical Systems (RMED)