Investors Are Starting to Price in Rate Cuts in 2020
(Bloomberg) -- Treasuries surged as plunging stocks sparked a bout of risk aversion and traders started betting that the Federal Reserve will cut interest rates as soon as 2020.
Traders have been slashing the expected pace of rate hikes since the central bank's top brass flagged global headwinds to growth and opened the door to a change in the policy path. That move picked up Tuesday. The swaps market has moved up the timing for when it sees the hiking cycle peaking, toward the end of 2019 or early 2020, a period when the Fed's own projections indicate tightening will still be under way.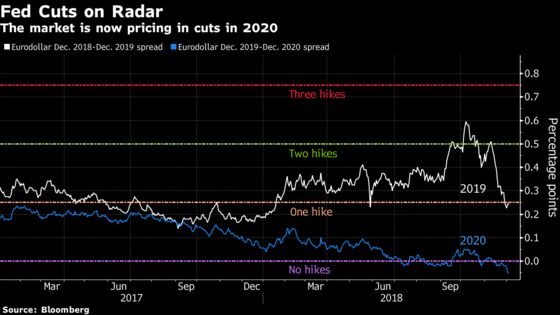 The shift in the market's view gained speed this week. On Tuesday, the yield curve from 2 to 10 years came the closest to inversion that it's been since 2007. Risk aversion amid losses in stocks fueled demand for Treasuries as skepticism emerged over the tariff deal that U.S. President Donald Trump announced after his weekend meeting with Chinese leader Xi Jinping. Trade friction is seen as a drag on the U.S. economy, which is already showing cracks, such as a slowing housing market.
"What is the most striking aspect of this move is the extent of it in just two days and how the acceleration came out of nowhere right after a supposed amicable meeting between the U.S. and China," Peter Boockvar, chief investment officer of Bleakley Financial Group, said in a note. "It's almost as if the bond market screamed out, 'It's too late, the growth slowdown underway can't be reversed."'
The curve is flattening -- with some sections already inverting -- because even though cuts have moved on to traders' radar screen in 2020, the Fed is still expected to lift rates this month and tighten further next year. Inversion has historically preceded U.S. recessions. New York Fed President John Williams on Tuesday reiterated his support for further gradual rate increases.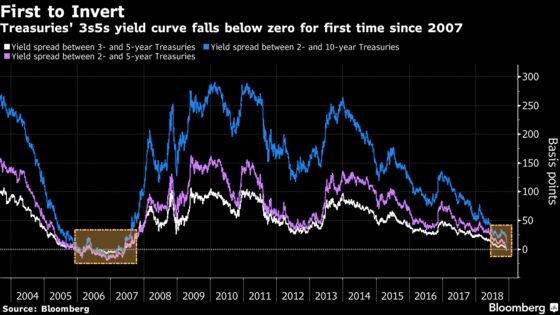 Ten-year Treasury yields sank below 2.9 percent Tuesday for the first time since September, pushing the spread over the two-year below 10 basis points, the narrowest since 2007 -- the last time it was inverted. In the swaps market, after an end to Fed hikes around the start of 2020, traders are pricing in at least 5 basis points of a cut by the middle of that year.
There's another source of support for long-term Treasuries: Inflation, the bane of bondholders, is expected to cool even as it's reached the Fed's 2 percent target. With WTI oil prices plunging, market-based gauges of inflation expectations have tumbled to the lowest in about a year.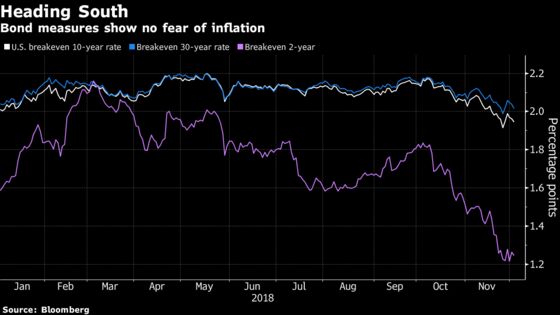 Gautam Khanna, a senior fund manager at Insight Investment, says inflation isn't a problem and there's a risk that the peak funds rate could even come in 2019. Yet he says that any economic surprises to the upside next year would lead the Fed to plow on with its tightening plans.
"You could even have 3 percent wage growth without it being inflationary, given the pace of productivity growth," said Khanna, whose firm manages about $787 billion. "We are trying to achieve the right degree of duration derived from high-quality sources, with the obvious ones being U.S. Treasuries as a defense against volatility."