Short Squeeze Fuels Junk-Bond ETF Jump After Record Bearish Bets
(Bloomberg) -- A short squeeze that helped push U.S. stocks to their best week of the year wasn't confined to equities. Junk bonds are experiencing it too.
Short interest as a percentage of shares outstanding on the iShares iBoxx High Yield Corporate Bond ETF, known as HYG, jumped to an all-time high at the start of June, according to data from IHS Markit Ltd. Since then, those bearish bets have unraveled at the fastest pace in three years as record amounts of cash enter the $15.8 billion ETF, Bloomberg data show.
The swift change in sentiment came after dovish remarks from Federal Reserve Chairman Jerome Powell early last week, which encouraged a resumption of the risk rally that sent HYG to its best week in five months.
"Nothing ruins an HYG shorts' day like a dovish Fed," said Bloomberg Intelligence analyst Eric Balchunas. "Those inflows [to the ETF] are likely the flip-side to all of the people who are taking that bet off," he added in reference to the decline in shorts. "That puts a lot of demand on HYG, probably extra demand, and that extra demand leads to creations."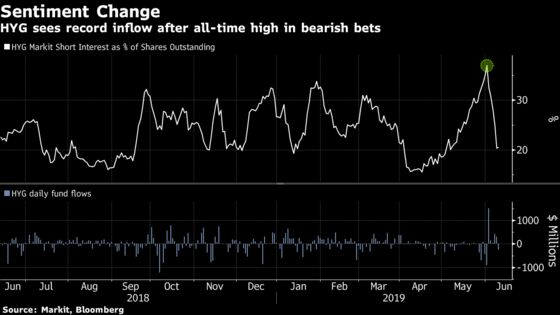 HYG is the most popular high-yield bond ETF, and trading volume in the fund has spiked in recent years as larger institutions use it more frequently. Bloomberg Intelligence calls the junk bond ETF "Hotel HYG," since investors typically trade in and out of the fund to express both bearish and bullish views. Inflows into the fund can coincide with an increase in short interest, if traders are creating new shares in order to lend them out.
The credit-risk rally stalled Wednesday, with HYG trading virtually flat as of 10:57 a.m. in New York. The near-term outlook is uncertain, particularly ahead of next week's Fed meeting and the Group-of-20 summit this month, where U.S. President Donald Trump and China's Xi Jinping may meet to discuss trade.
"Sentiment was awful a couple weeks back," said Christian Fromhertz, chief executive officer of Tribeca Trade Group. "It brings up the question: Are longs going to follow through after a week of a rally or are shorts going to re-assert themselves?"