Swedish Inflation Hits Target Again in Relief to Riksbank
(Bloomberg) -- Swedish inflation was back at the target in April, bringing comfort to the Riksbank as it struggles to bring interest rates back above zero after years of extreme monetary policy.
Consumer prices with a constant interest rate rose an annual 2.0% in April, according to Statistics Sweden. That was in line with the 2.0% predicted in a survey of economists, but just below the 2.1% estimate from the central bank.
Riksbank Governor Stefan Ingves said the outcome was "good" and in line with forecasts.
"I can't say that today's inflation data changes anything when it comes to our rate path and our plan to raise rates," Ingves told reporters after a speech on Tuesday. "If the world develops like we have forecast, then it's reasonable to believe that our view will stand."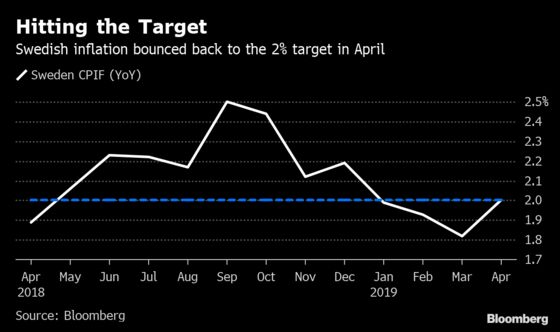 Sweden's central bank last month pushed back plans to raise rates again to potentially early next year after inflation missed its forecast for several months. The bank in December increased its key rate to minus 0.25%, its first tightening in seven years.
Central banks across the world are calling a halt to tightening amid slowing global economic momentum and still anemic inflation rates in many countries.
Policy makers in Sweden have come under extreme criticism for their loose policy, which has caused the krona to tumble to near record low levels. The bank last month also decided to prolong its bond buying program to the end of 2020.
Underlying inflation measures were also in line with expectations. CPIF excluding energy reached 1.6 percent in April, in line with estimates from economists and the Riksbank.
Cathrine Danin, senior economist at Swedbank, said: "The broad uptick in inflation, not only due to temporary and volatile factors, is welcome to the Riksbank. Today's data don't alter our view that the next rate hike should be in December."
Stefan Mellin, analyst at Danske Bank, said that "there should not be a big EURSEK reaction on this, though the fact that the numbers being in line and not below the RB could be seen as somewhat of a relief, and as such weigh marginally on the cross in line with our reasoning."
Michael Grahn, chief economist at Danske Bank: "April inflation was basically in line with forecasts and very close to Riksbank's forecast. No big deal."
Martin Enlund, chief analyst at Nordea, said inflation was "a touch below the Riksbank's estimate, which on the margin boosts the likelihood of another dovish reaction such as a flattening of the repo rate path by the central bank in July."
The krona strengthened 0.3% to 10.7898 per euro as of 09:58 a.m.
For more details, see this table