South African Jobless Rate Rises to 27.6%, Near 15-Year High
(Bloomberg) -- South Africa's unemployment rate climbed in the first quarter of 2019 as construction and financial-services firms cut positions.
The unemployment rate rose to 27.6% from 27.1% in the three months through December, Statistics South Africa said in report released Tuesday in the capital, Pretoria. The median estimate of six economists surveyed by Bloomberg was 27.4%.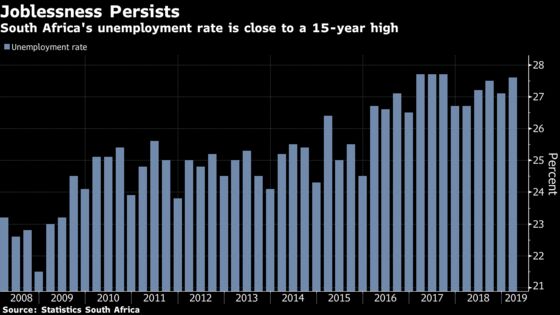 The jobless rate in Africa's most-industrialized economy hasn't fallen below 20% since at least 2000, largely due to sluggish economic growth. Gross domestic product hasn't expanded by more than 2% a year since 2013 and economists say GDP must rise by 3% to 5% annually for the unemployment rate to recede.
President Cyril Ramaphosa's appetite to impose tough economic reforms will be tested in the coming weeks as he streamlines his cabinet and appoints ministers to key departments. Ramaphosa, who led the ruling African National Congress to a sixth straight election victory at the weekend, pledged growth of as much as 5% a year in his campaign for leadership of the party.
"At this stage, there is too much slack in the labor market and this will remain the status quo until structural reform takes hold," Mamello Matikinca, the chief economist at FirstRand Ltd.'s First National Bank unit, said before the release.
The unemployment rate usually increases in the first quarter as temporary positions filled over the festive season are cut, Kamilla Kaplan, an economist at Investec Bank Ltd., said in a note before the data's release.
All sectors barring manufacturing, trade and transport cut employment.
At 142,000, the construction industry cut the most jobs while financial services trimmed 94,000 positions.
What Bloomberg's Economist Says:
Our seasonal adjustment of the data indicates that unemployment actually dropped somewhat from a peak in the fourth quarter if seasonal jobs are eliminated. Nevertheless, unemployment at close to 28% is clearly not sustainable and Ramaphosa will need to make reducing it an immediate priority. The easiest way to achieve this will be to keep the uptick in consumption going as the service sector remains the main job creator. Over the medium term, it will need to improve its education system, where it lags many sub-Saharan African nations despite spending considerably more.

--Mark Bohlund, economist