PBOC's Presence Seen to Prevent Yuan From Deeper Plunge
(Bloomberg) -- China is unlikely to let the plunge in the yuan get out of control, according to Macquarie Securities Ltd.
The People's Bank of China will want to keep the currency stronger than 7 per dollar -- a level not reached since the financial crisis -- as a break past that may lead to a "vicious cycle" of capital outflows and sharper depreciation, said Larry Hu, head of Chinese economics at Macquarie. The offshore yuan fell to as low as 6.9194 on Tuesday and is down 2.5 percent this month.
When the yuan edged closer to 7 last year, the PBOC signaled tougher control of its currency in its monetary report and sold bills in Hong Kong -- a move that could tighten liquidity and buoy the exchange rate.
The central bank can stabilize the exchange rate by setting strong fixings and selling the dollar directly in the spot market, he said. "Also, China doesn't want the currency to be too weak as that will make negotiations with the U.S. tougher."
The PBOC has set its daily currency fix stronger than analysts polled by Bloomberg expected for the past five days, as the chart below shows, a possible sign that officials don't want the decline to be too steep.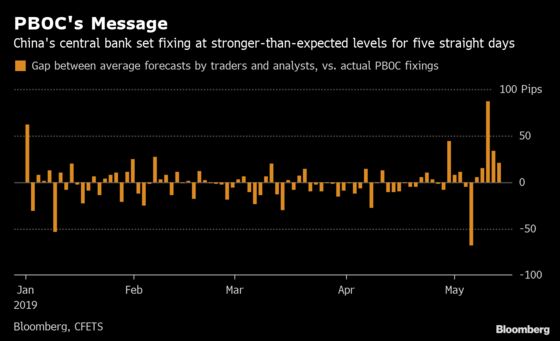 On top of that, the cost of borrowing the offshore yuan is rising, which may deter bears. A bond sale by the PBOC on Wednesday of 20 billion yuan ($2.9 billion) of bills in the city may also be driving up demand to hold the currency.