Low Euro-Zone Rates a Winner for Most Though France Loses Out
(Bloomberg) -- Go inside the global economy with Stephanie Flanders in her new podcast, Stephanomics. Subscribe via Pocket Cast or iTunes.
Germany, Italy and Spain have all been net winners from almost a decade of falling interest rates in the euro zone, while France has been a net loser, according to UniCredit.
Lower rates hurt lenders and savers, and the European Central Bank has been consistently attacked for its rate-cutting by banks, pension funds and citizens planning for their retirement. But cheaper borrowing costs are good news for anyone refinancing their debt.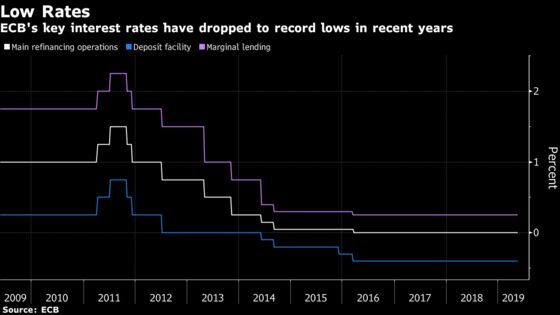 UniCredit's Marco Valli, head of macro research, says in a note that among the biggest beneficiaries in the past 10 years have been governments, and Spanish companies and households.
"We showed that the government sector benefited the most in Germany, where the impulse stemming from the decline in ECB policy rates was amplified by the safe-haven status of government debt. Non-financial corporations and households enjoyed the most relief in Spain, where they were also aided by sizable deleveraging."
Italy, with the euro zone's biggest debt load, was also a net winner although the nation's households fared worse because of their reliance on interest-bearing investments. France is the only one of the bloc's four biggest economies to lose out overall, dragged down by the relatively large holdings of interest-bearing assets by financial corporations.
ECB President Mario Draghi repeatedly claims that the institution's ultra-low rates aid the economy, and Valli reckons that they'll be around for a while yet.
"Our forecast is for ECB policy rates to remain at their current levels throughout 2020, and financial markets appear to agree. The first increase in the deposit rate is currently being priced for the end of 2021."