Japan's Abe Says North Korea Missile Tests Broke UN Resolutions
(Bloomberg) -- Japanese Prime Minister Shinzo Abe said North Korea violated UN resolutions with its missile launches this month, putting pressure on the U.S. to raise the issue with the Security Council.
Abe, who has long favored a harder line against Kim Jong Un's weapon program, told a meeting of ruling coalition lawmakers Tuesday in Tokyo that United Nations resolutions must be better enforced. That contrasted with U.S. President Donald Trump, who said "nobody's happy about" the missile launches, but stopped short of declaring them a violation.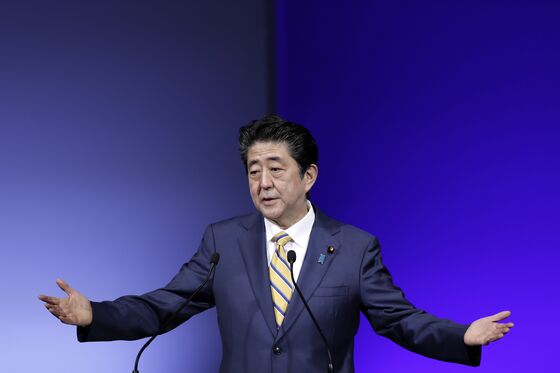 "Regarding the launches of short-range missiles by North Korea, they are a breach of UN Security Council resolutions and extremely regrettable," Abe said. "While cooperating closely with the U.S. and other related countries, we are planning to tackle this appropriately by strengthening enforcement of related UN Security Council resolutions."
North Korea conducted test launches on May 4 and May 9 -- its first and most significant military operations since November 2017. Weapons experts said the tests included firing a new type of short-range ballistic missile capable of carrying a nuclear payload and striking all parts of South Korea.
The launches have cast new doubt on Trump's effort to secure a disarmament deal with North Korea.
Even though ballistic missile testing is banned by resolutions pushed by Trump's administration, the U.S. tamped down talk earlier last week of discussing the violations with the Security Council, according to two Security Council diplomats who asked not to be identified. European officials suggested holding a meeting, but the U.S. wanted to wait and assess the situation, diplomats said.
In another sign of reemerging tensions, North Korea's foreign ministry on Tuesday condemned the U.S.'s seizure of a ship suspected of carrying banned coal exports from the country. The ministry called the move an "illegal action of theft" that "violates the basic spirit" of the agreement reached between Kim and Trump during their first meeting last year in Singapore.