ECB's Villeroy Says Recent Data Don't Refute Economic Forecasts
(Bloomberg) -- The euro-area economy hasn't deviated from the European Central Bank's projections, giving the Frankfurt-based institution no reason to adapt its monetary policy stance, according to Governing Council member Francois Villeroy de Galhau.
Speaking in Paris, the Bank of France governor said the ECB's economic analysis is "confirmed" and its policy "appears appropriate at this stage."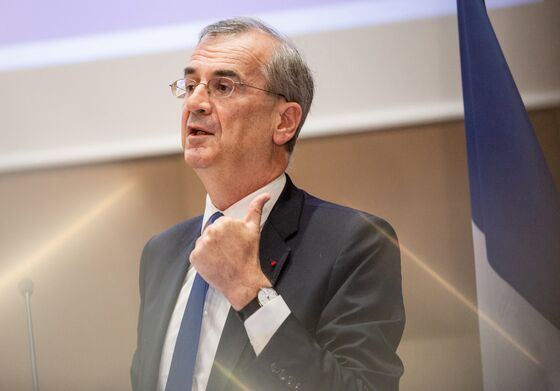 "In our latest forecast in March, we expected a significant but temporary slowdown," he said. "Notwithstanding persistent and substantial geopolitical uncertainties, recent economic data does not contradict this forecast."
The comments indicate growing confidence at the ECB that the euro area will soon mount a comeback from a manufacturing slump that has clouded its economic prospects since the end of last year. Data including better-than-expected growth in the first quarter could be read as a sign that the bloc's deceleration is ending, yet uncertainties over global trade, Chinese growth and Brexit remain as headwinds.
Villeroy is a leading candidate to replace ECB President Mario Draghi when he steps down at the end of October. He has previously stressed that the ECB still has sufficient tools to react if the economy disappoints.
The ECB is hoping for a sustained acceleration to avoid having to further extend its stimulus efforts. It currently pledges to keep interest rates at record lows for at the least the rest of this year and will offer banks new favorable loans. The next policy decision is due June 6.