Dutch Economy Grew 0.5% in First Quarter, Topping Expectations
(Bloomberg) -- Go inside the global economy with Stephanie Flanders in her new podcast, Stephanomics. Subscribe via Pocket Cast or iTunes.
Economic growth in the Netherlands came in better than economists forecast in the first quarter, adding to the run of recent good numbers from the euro area.
The first-quarter performance saw the region's fifth largest economy grow 0.5% compared with the previous three months. That was just ahead of the 0.4% median forecast of economists.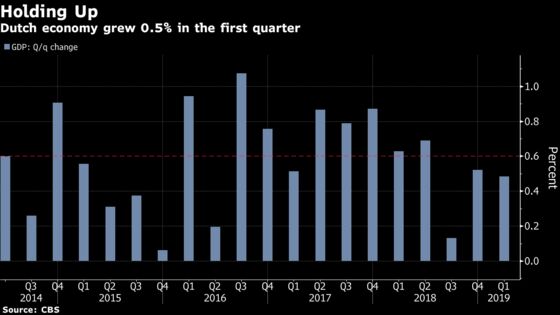 Expansion in the 19-nation euro zone topped expectations at 0.4% in the period, and a similar number is predicted on Wednesday from Germany, the region's biggest economy. Although the numbers may be not as bad as feared, the question is whether Europe can sustain the upturn, as there are concerns over escalating trade tensions between the U.S. and China.
Country
First-quarter GDP
Previous quarter
Euro area
0.4%
0.2%
Germany
(forecast)
0.4% 
0.0%
France
0.3%
0.3%
Italy
0.2%
-0.1%
Spain
0.7%
0.6%
In the Netherlands, first-quarter growth was boosted by investment, while net trade subtracted from GDP. From a year earlier, economic growth slowed to 1.7%, the weakest since 2015.
Along with other countries, the Netherlands has seen manufacturing suffer recently. Factory production has fallen in three of the past four months on a year-on-year basis, and the country's Purchasing Managers Index is at the lowest in almost three years.
Dutch central bank president Klaas Knot said recently clear there's a slowdown in the euro-region economy but there will not be a recession or a new crisis. He expects growth to pick up in the second half of this year due to robust domestic demand.