China's Yuan Rallies on Trump's Trade Comments
(Bloomberg) -- Traders are once again wondering whether the yuan will hit 7 after a rally proved fleeting.
The offshore yuan traded at 6.9100 per dollar as of 5:01 p.m. local time, after erasing a gain of as much as 0.35% in the morning. Traders had attributed the earlier advance to comments by President Donald Trump that talks are "going to be very successful" and a surge in the currency's interbank borrowing costs in Hong Kong.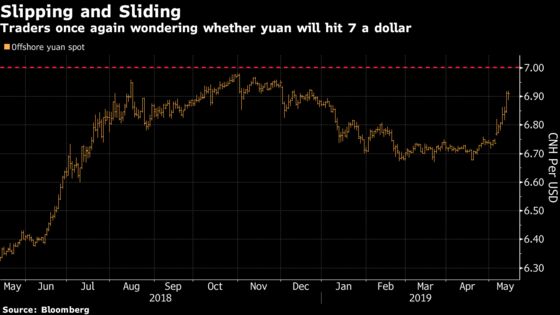 "The rally in the yuan didn't last because it wasn't built on a solid foundation, such as progress made on the trade talks, but was based on a few comments made by Trump," said Gao Qi, a currency strategist at Scotiabank in Singapore. "So now traders are selling the currency in case there's any negative news on the negotiations overnight."
The offshore yuan weakened past 6.9 on Monday for the first time this year amid the China-U.S. trade tensions. The currency has tumbled 2.5 percent this month as the worst performer in Asia. The People's Bank of China will want to keep the currency stronger than 7 per dollar as a break may lead to a "vicious cycle" of capital outflows and sharper depreciation, according to Macquarie Securities Ltd.
Gao said the PBOC "may send verbal warnings, set stronger fixings and boost offshore funding costs to stabilize the yuan."
There are signs that Beijing is already working to repair investor confidence. The PBOC-backed Financial News wrote in a front-page article on Tuesday that China will not see big and continuous deprecation in the yuan. The central bank has set its daily reference rate for the yuan at levels that are stronger than the average forecasts traders and analysts offered to Bloomberg for five sessions in a row, the longest run this year.
Cash supply is tightening in Hong Kong, with the offshore yuan's one-month interbank interest rates spiking to the highest level since December. Demand for the yuan will rise further on Wednesday, as the PBOC sells 20 billion yuan ($2.9 billion) of bills in the city.
"Unless there is something concrete on progress on trade war front, the market should discount random Trump tweets," said Jason Daw, head of emerging markets strategy at Societe Generale SA. "The market continues to be in the process of adding risk premium to slower China, U.S. and global growth, and the increasing probability of a no-deal scenario as the worst-case outcome."