A Flood of Toxic Loans in China Is a Bonanza for Debt Buyers
Chinese distressed debt investors are seizing the upper hand in the big rush by banks to offload soured loans.
Increasingly, the bargaining power has fallen to the buyers' side. Bidding was fierce a couple years ago amid slim pickings with buyers outnumbering sellers. For Wu Rui, with almost two decades of experience in the distressed debt business, that's changed with bad loans soaring. He has received more invitations recently from banks and asset management companies keen to sell him the bad debt.
"Most investors felt the pain in a market that was favorable to sellers in the past few years, but now it's leaning to the buyers," said Wu, executive director for mezzanine and credit investment at CDH Investments.
Banks' rush to sell bad debt is giving Wu little time for any leisure. Four NPL investment fairs within three days last month was probably the most intense schedule he's had in recent years, he said, adding more banks are "honestly" marketing their soured assets.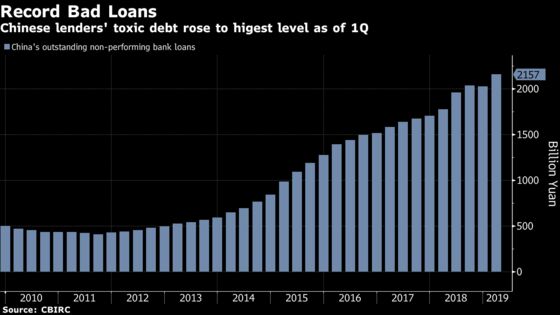 That's not surprising. Chinese banks' outstanding bad loans climbed to a record 2.16 trillion yuan ($314 billion) as of the end of March, according to the country's banking regulator. The explosion of soured debt comes in the wake of more private sector firms struggling to refinance debts and an intensifying trade war with the U.S. that's bearing down on the economy.
Moreover, China's top banking regulator is encouraging commercial lenders to accelerate the recognition of toxic debt into their accounts. The watchdog in recent weeks used so-called window guidance to inform banks with nationwide operations that they must classify corporate loans overdue for more than 60 days as nonperforming, down from 90 days previously, people familiar with the matter said this month.
This means it's crucial for lenders to offload them quickly. The result: investors are embracing cheaper and bigger supply of bad loans.
Two years ago, a small NPL package of tens of millions of yuan would have attracted intense bidding from more than a dozen investors. This year, the size of many deals has grown to about 10 billion yuan, he said.
Prices of China's bad loan packages will continue dropping this year from 2018 as supply swells, according to the majority of respondents in a survey released by China Orient Asset Management Co. in early April. Most of them said prices of NPL packages fell by 10% to 20% last year, and the price level is expected to be 30% to 40% of the book value this year.
"As there are more NPLs being offered for sale and fewer capable buyers, prices are definitely coming down," said Ted Osborn, a partner at PwC China. "I expect the selling boom will continue for the next 2-3 years."
The real amount of China's bad debt is larger than the official data, which only covers bank loans. Non-bank financial organizations such as trust companies might have so far supplied the market with 1.1 trillion yuan of soured assets, according to the report by China Orient.
All this is good news for debt investors.
"We are definitely going to evaluate more portfolios this year, because we see better value in the bad debt," said Harold Wang, Shanghai-based managing director of Orient Longxin Investment Advisor Ltd.