U.S. and Japan Start Next Round of Accelerated Trade Talks
(Bloomberg) -- U.S. and Japanese negotiators had a second round of trade talks in Washington on Thursday as they aim to secure a speedy deal focused on agriculture and vehicles.
Japanese Economy Minister Toshimitsu Motegi met with U.S. Trade Representative Robert Lighthizer, while Finance Minister Taro Aso had a separate discussion with Treasury Secretary Steven Mnuchin, and talked about currencies. On Friday, Japan's Prime Minister Shinzo Abe plans to meet President Donald Trump in Washington.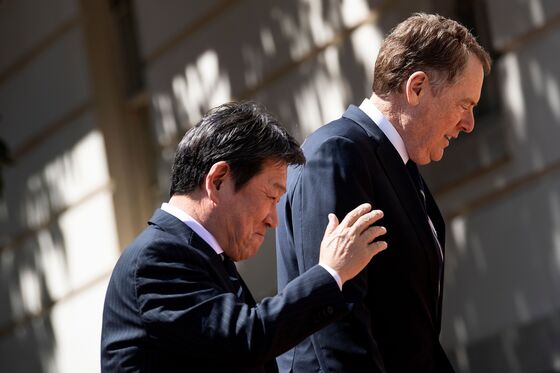 The U.S. is pushing to reduce its trade deficit with Japan and gain better access to the Asian nation's agriculture market. For its part, Japan is looking for a concrete promise that it won't be hit by possible U.S. tariffs on autos imports, similar to duties imposed by the Trump administration last year on steel and aluminum on national security grounds.
Motegi said last week, during the first round of negotiations, that the sides are aiming for an "early" agreement.
On Thursday, however, Motegi said the talks mostly confirmed the content of the negotiations agreed to the previous week, with no substantial progress on autos or agriculture. "More detailed negotiations will come in the future," he said.
Following Thursday's talks with Mnuchin, Aso also pushed back against U.S. efforts to link the yen with bilateral talks aimed at striking a trade deal.
"We can't agree to any talk of linking currency and trade policy," he said.
A Finance Ministry official who briefed reporters after Aso said he believes that talks concerning currency will be secondary to the trade talks between Motegi and Lighthizer.
U.S. farmers are also agitating for a quick resolution. Almost 90 agricultural organizations said in a letter to Lighthizer this week that U.S. agricultural products are losing ground after Japan cut tariffs for a second time on products from the European Union and some Asia-Pacific nations.
After Trump pulled the U.S. out of the Trans-Pacific Partnership soon after his inauguration, the 11 other members including Japan went ahead without the U.S. to forge a successor deal called the CPTPP. U.S. farmers say they've been left at a disadvantage by that pact, and another that Abe struck in 2018 with the European Union.