Britain's Brexit Crisis Takes Further Toll as Services Shrink
Britain's Brexit turmoil inflicted further damage on the economy last month as the nation's huge services sector shrank for the first time in more than 2 1/2 years.
With Parliament gridlocked and Britain's short-term future increasingly uncertain, companies and households held back spending in March, IHS Markit said Wednesday. Its Purchasing Managers' Index indicates that the economy shrank last month and stalled over the first quarter, with a risk that the slump deepens in the coming months.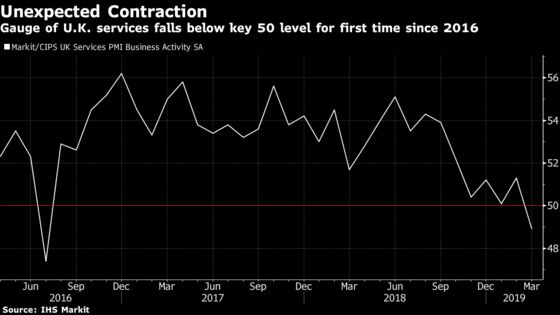 "The continuing uncertainty was eventually going to take its toll," said George Buckley, chief U.K. economist at Nomura in London. "Where it typically effects growth, on the expenditure side at least, is through consumer spending and particularly investment. You get the impression businesses simply are just sitting on their hands."
The latest twist in the Brexit saga came on Tuesday night, when Prime Minister Theresa May asked opposition leader Jeremy Corbyn to help work out a joint plan in an attempt to break the deadlock and prevent the U.K. crashing out of the European Union without a deal. The pound rose for a third day on Wednesday.
Still, time is running short, with the U.K. likely to need an extra delay beyond next week's potential cliff-edge deadline of April 12. The Institute of Directors said late Tuesday that brinkmanship has gone on too long" and politicians must end "this miserable uncertainty."
As politicians bicker, the economy is faltering. Markit's services PMI dropped to 48.9 in March from 51.3 in February, below the key 50 level for the first time since immediately after the Brexit referendum in 2016.
The reading means that the U.K.'s services and construction sectors are both in decline, while manufacturing was buoyed by stockpiling, limiting the drop in a composite gauge to 50.
What Bloomberg's Economists Say

"The drop in the composite PMI left the survey painting a bleak picture. Still, there are also good reasons to think the PMI is overstating the weakness in growth in 1Q. If a no deal Brexit is avoided and global growth stabilizes, a return to trend gains looks feasible."

--Dan Hanson, economist
Click here to view the research.
In services, new order books deteriorated for a third straight month, the longest fall in sales volumes since 2009, while export demand was especially weak.
Markit sees U.K. economic growth slowing to 0.8 percent this year -- weaker than both the Treasury or Bank of England -- and notes that even that outlook is "perhaps somewhat hopeful given the recent lack of any Brexit developments."
"The underlying picture of demand is even worse than the headline numbers suggest," said Chris Williamson, chief business economist at IHS Markit.