Suddenly Inflation Isn't Turkish Central Bank's Only Worry
(Bloomberg) -- It took an upheaval in the currency to shift the Turkish central bank's focus away from inflation.
With annual price growth stalling at just under 20 percent, it may not dictate policy again until calm returns to financial markets roiled last week by close-fought municipal elections. Data on Wednesday showed annual inflation at 19.71 percent in March, little changed from February.
"Financial stability considerations rather than the inflation outlook will be the primary drivers of monetary policy in the near term," Goldman Sachs Group Inc. economists Clemens Grafe and Murat Unur said in a report. The central bank "will only ease policy once confidence in the lira returns."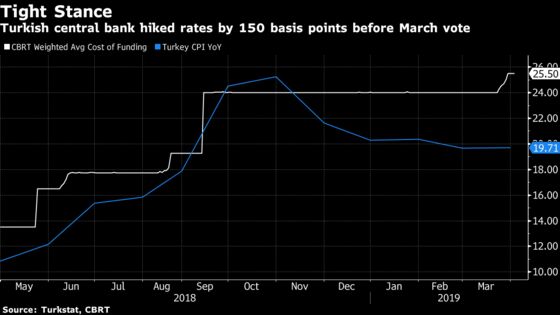 The final stretch before Sunday's elections has tripped up a central bank that was on course to cut interest rates in the coming months as inflation stabilized. The lira went on a roller coaster ride starting from March 22 after a surprise drop in Turkey's international reserves prompted speculation that policy makers were supporting the currency.
What Bloomberg's Economists Say

"Life was meant to be straightforward for the central bank, but the recent wobble in the lira changed all this. Monetary easing will have to wait until the second half of the year."

--Ziad Daoud, Mideast economist
The central bank responded by raising borrowing costs with a suspension of its one-week repo auctions. Days later, limits designed to tame short-selling through offshore funding markets kicked in, propelling swap rates beyond 1,000 percent and trapping investors in their lira bets.
The lack of improvement in the inflation data "confirms our cautious call for policy easing later in the year, especially in the wake of market nervousness over fluctuations in the central bank's reserves." Carla Slim, an economist for Standard Chartered Plc in Dubai, said before the data release.
Although Turkey has slipped into recession, domestic price pressures remain strong, with inflation still almost quadruple the official target. Increases in the cost of fuel and medicines in March may also be offsetting efforts to contain food inflation.
Growth in retail prices in Istanbul, Turkey's biggest city, accelerated in March to 0.75 percent while food prices rose 0.92 percent on a monthly basis
Gasoline prices on Istanbul's European side rose to 6.66 liras per liter in March, an increase of over 10% from a month earlier. Diesel prices increased nearly 5%
The government raised prices for medicines by more than 26 percent for 2019 after talks with industry representatives
"The fuel pump prices have been trending higher since second half of February and they remained high through March, which will contribute to transport inflation," said Inan Demir, an economist at Nomura Plc who's ranked by Bloomberg as the most accurate forecaster on Turkish inflation. "The adjustments in medicine prices came relatively late to affect the February inflation figures. We will likely see more of the impact on March inflation figures."