U.S. Incomes Fell in January After Surge on Special Payouts
(Bloomberg) -- Americans' incomes unexpectedly fell in January, the first decline in about three years, following a surge in the prior month that reflected special dividends and farm subsidies.
Personal income in January fell 0.1 percent from the prior month, compared with projections for a gain, following a 1 percent increase in December that was the largest in six years, according to a Commerce Department report Friday. Figures for purchases were available for December only and delayed due to the government shutdown, showing a 0.5 percent drop during the month, while the Fed's preferred core price gauge rose 1.9 percent in December from a year earlier, unchanged from November.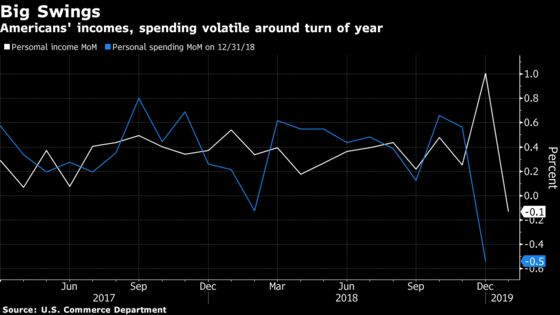 The jump in December income reflected an $83.4 billion increase in personal dividend income that was primarily due to a one-time special dividend payment by VMware Inc. In addition, farm proprietors' income was up $29.2 billion, which included subsidy payments from the Department of Agriculture.
Removing some special items, wages and salaries continued steady gains in January with a 0.3 percent monthly advance following a 0.5 percent increase.
Momentum in consumer spending cooled at the end of 2018, as inflation-adjusted spending on services fell 0.2 percent in December from the prior month. Earlier retail-sales figures showed the biggest decline in nine years, though some analysts were skeptical of the data given other reports showing solid gains.
Fed officials, who pledged in January to be patient on interest rates, will likely await signs of pickups in inflation and spending before considering resuming their hikes. While the central bank targets 2 percent inflation including all items, it looks to the core gauge as a better indicator of underlying price trends.
The main PCE price index rose 1.7 percent in December from a year earlier following 1.8 percent in November. On a monthly basis, the gauge rose 0.1 percent, above forecasts for no change, and the core index was up 0.2 percent, in line with projections.
The saving rate jumped to 7.6 percent in December, the highest since 2016, from 6.1 percent the prior month.
The next report on March 29 will include February data on incomes and January figures on spending and PCE inflation, as shutdown-related delays continue to ripple through the schedule of economic indicators.