Traders Finally Get Escape Velocity. 2800 Looms: Taking Stock
(Bloomberg) -- It finally broke through to one side.
After a week of sub 0.5% moves in the S&P, futures have a bit of momentum behind it this morning following figures from China's Caixin manufacturing gauge, which showed that some of the stimulus measures in the world's second largest economy are having an impact.
Bloomberg's reporting that U.S. officials are preparing a final trade deal for President Donald Trump and Xi Jinping to sign in weeks may also be giving a small lift to sentiment that, if this move holds near 2800, would mark the eighth week of gains out of nine thus far in 2019.
Thursday was unsurprisingly defensive, but one day a trend does not make. Looking at the rotation in the graphic below, positioning is not as bad as the main headlines make it out to be.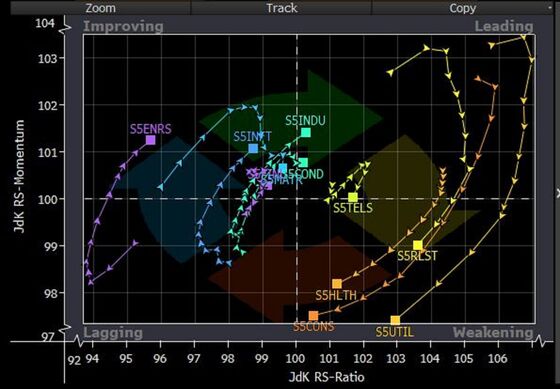 The Fed's preferred inflation gauge, core PCE, is due later this morning, which is one of the few catalysts remaining this week that could change the narrative with a true surprise. However, FOMC Chair Powell just last night said that "signs of upward pressure on inflation appear muted despite the strong labor market," which should temper any expectations in the data, but, as always, the risk is there.
If you would have asked anyone coming into this earnings season about their level of excitement about the retail sector, I wouldn't be surprised if you would have been on the receiving end of a blank stare. And to be sure, its not like consumer discretionary names are blowing out earnings and sales expectations (the segment is beating sales estimates by less than 1% on average over the past month). Instead, new strategies are emerging, like J.C. Penney's store closures and a renewed focus on women (sending shares up by more than 20%) and Gap in its decision to have its Old Navy brand as a stand alone entity (shares rose more than 20% after the market close as analysts are in broad agreement that the move will unlock value). Nordstrom did it the old-fashioned way, beating expectations, though "weakness in full-price sales" is a concern, Bloomberg Intelligence's Poonam Goyal wrote after the results. Target and Kohl's next week will seek to confirm the mold.
The focus instead for the Street surely must have been on the enterprise and cloud players, especially since the overarching theme this earnings season has been on how data centers and big tech broadly have been faring in the face of global slowdown.
Cloud player Box closed down nearly 19% Thursday, weighing on its rival Dropbox and becoming a victim of high expectations (billings growth came in at 16%, below some estimates in the 20% range). With that disaster comes a silver lining: possible private equity interest. DA Davidson analysts discussed the prospect Thursday, given what they viewed as "investor unrest." But despite that company-specific circumstance, the tech tone was decidedly negative ahead of some of the larger players that reported last night.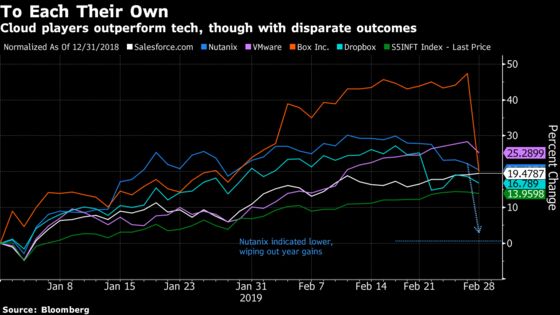 VMware broke its 13-day rising streak on the back of the sour tone that befell most of tech, only to rise more than 3% on its earnings ("a lot to like in strong" results, Keybanc analysts wrote). Analysts at JPMorgan had a prescient call, removing the virtualization and data center firm from their focus list on valuation right ahead of the results, though still remain "fundamentally positive." That positive tone however didn't extend to one of VMware's peers, as Nutanix plummeted more than 23% after missing gross margin expectations. The company had been shifting more towards software/term licenses and away from hardware, which appears to have impacted their pipeline and appears company-specific, making it difficult to read more into the segment.
A few large macro catalysts help bookend a dose of retail health barometers and conferences next week, which can't come soon enough, if you, like much of the market, are craving a real direction in equities.
Salesforce.com, though technically an individual company and not considered of "macro" importance, nevertheless carries weight, sporting its market cap well in excess of $125 billion and with its earnings results Monday, has the potential to push major cloud players and the information technology index around. It also hit a fresh record-high Thursday, setting up today's pricing action as crucial for investors ahead of the print. Tech has been the second best performer this year, and will require something special to keep the momentum. JPMorgan analysts on Salesforce.com called the upcoming fourth quarter results a "celestial event" with "tough" comps for bookings and billings, despite the company ecosystem's "remarkable health and resilience."
Warehouse stores BJ's and Costco, discount retailers Ross Stores and Dollar Tree, Target and Kohl's will round out some of the retail focus into the heart of the week. BJ's has had Costco's number since its IPO in June of last year, rewarding investors with 3x the return, though still heavily owned by its private equity patrons in Leonard Green & Partners and CVC.
Conditions seem ripe for the other areas of retail, as Nordstrom and J.C. Penney turned in powerful performances for their shareholders on Thursday (and TJX Cos. on Wednesday).
Tidying up the week brings the ECB rate decision Thursday and U.S. non-farm payrolls figures on Friday that are sure to be chock full of noise. The blow out figure last month were sliced and diced by analysts, and some said then that they expected the figures to be revised down with the upcoming data. The expected 185K figure is slightly below the average over the past 6 years, but ultimately hourly earnings should set the table on whether the FOMC sees the report as sufficient to maintain its "pivot."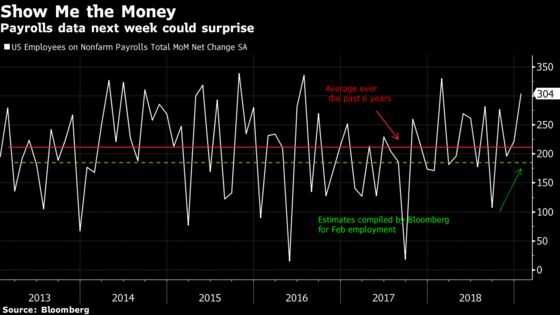 Teen retail (URBN, ANF, AEO) after Gap separates Old Navy into a stand alone company and earnings were uninspiring
Cloud players (RHT, NTAP) after Box's tragic earnings was followed by decent results from VMW, ZS, SPLK and WDAY
Optical component makers (FN, LITE, ACIA) after NeoPhotonics' 1Q forecast was weak
3-D printer names SSYS, VJET after the post-market volatility seen in 3-D systems, that saw shares spike more than 10% after beating analyst estimates
NIO and other electric car makers (SOLO anyone?) after Tesla throws down the gauntlet with its Model 3 with a base price of $35K (the model they had promised for years would at some point be available) and moving to an online-only sales model; Morgan Stanley's Jonas wrote that the moves may stabilize the "air pocket" in 1Q sales but it also may indicate the brand may lose its "halo" of exclusivity -- shares are down 5% pre-market after running up into the announcement
Continued strength in used car prices, according to Barclays analyst Brian Johnson, creates a "favorable backdrop" for Hertz Global to refinance its debt, leading to an upgrade of the rating to equal-weight (PT goes to $18 from $14). There still remain risks to rental car prices that prevent him from moving to an overweight rating, but Johnson is comfortable that the "benign" used car environment relieves pressure on the company, allowing it to move forward with its transformation. Shares are indicated to open higher this morning as the analyst disputes "doomsday" proclamations that ride sharing trends could run the rental car companies out of business. He cites data that shows that more than 90% of Avis' rentals are for long distance trips.
Deutsche Bank is out cautious on some airlines, downgrading AAL and DAL to a hold, sending shares lower in the pre-market. Analyst Michael Linenberg highlights that the global macro data recently has been less encouraging, and that it is difficult to recommend "new money" positions in the airline stocks that are most exposed globally.
Tick-by-Tick Guide to Today's Actionable Events
Tesla's $920 million convertible bond repayment due
SVB Leerink Global Healthcare Conference in NYC
Feb total vehicles sales
8:30am -- Jan. Personal income, Dec. Personal spending, Dec. PCE core/deflator
9:00am -- FL earnings call
9:45am -- Feb Markit manufacturing PMI
10:00am -- Feb ISM manufacturing/employment; University of Michigan Sentiment
10:00am -- MAR earnings call
12:50pm -- Fed's Bostic at economic policy conference luncheon