Deficit Conquered, Germany Is Finally Boosting Public Spending
(Bloomberg) -- Want the lowdown on European markets? In your inbox before the open, every day. Sign up here.
Germany is finally warming to the idea of loosening its purse strings.
Finance Minister Olaf Scholz has set aside more than 150 billion euros ($170 billion) for infrastructure, education, housing and digital technology over the next four years. The push on infrastructure is helping construction, which grew at an annual pace of more than 3 percent in the second half of 2018.
At the same time, changes to social-security contributions and taxation are putting more money in consumers' pockets, which should help domestic demand. Unemployment figures on Friday showed another drop in the number of jobless.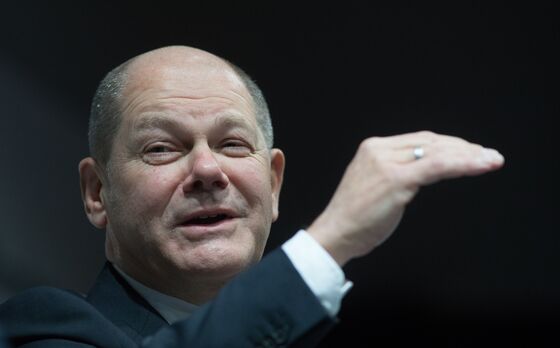 "Slowly but surely, Germany is delivering the boost to government spending that observers have asked for many years," said Holger Schmieding, chief economist at Berenberg Bank.
The argument for less frugality has been espoused by everyone from U.S. President Donald Trump to Nobel laureate Paul Krugman, and with German growth cooling, calls from outside Germany for more have grown louder recently. "There is basically no downside" to more spending, according to Brad Setser, a senior fellow for international economics at the Council on Foreign Relations in New York.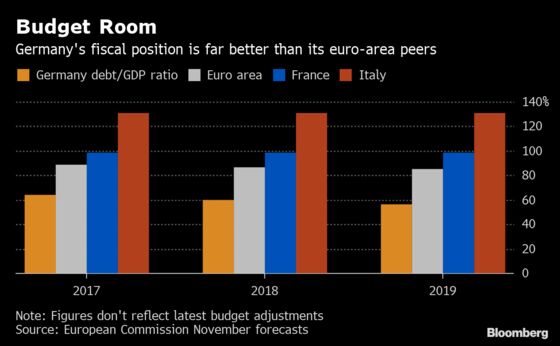 At the heart of the demands are low sovereign yields and a very favorable budget situation.
Having spent big in the aftermath of the financial crisis, the government then pulled back to put the budget in the black -- the so-called "Schwarze Null." It's run a surplus for the past five years, and debt-to-GDP is set to fall below the EU limit of 60 percent for the first time since 2002. Italy's government is looking at debt levels exceeding 130 percent of GDP, and France's ratio is close to 100 percent.
At Eurizon SLJ Capital, former IMF economist Stephen Jen says the achievements "should be celebrated, not criticized," but there's reasons for Germany to "consider counter-cyclical fiscal policies."
What Our Economists Say:
"(We see) below-trend growth in Germany, but it's far from a downturn -- we think the worst shocks have passed... The temporary factors holding back industrial growth are also unlikely to persist and, so long as the much larger services sector holds up, it's hard to see the economy stagnating again."

--Jamie Murray, Bloomberg Economics. Read the full INSIGHT
Schmieding says there should already be a fiscal boost of 0.3-0.4 percent of GDP this year. Unless there's a major slump, it needs "no more to protect its workers and consumers from any significant hardship," he said.
But it's not all about recession risk, rather fixing an often-creaking infrastructure. Fiscal restraint after the financial crisis hit investment, a story told via cracks in bridges and potholes on the autobahn.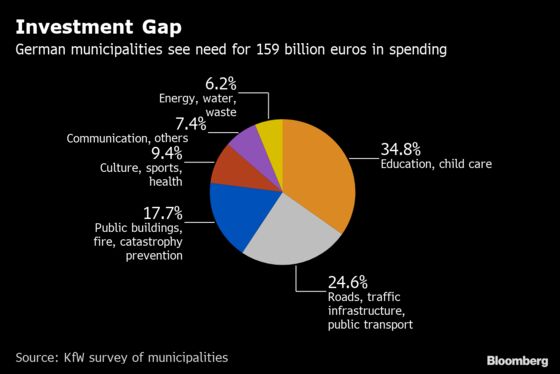 While the government has redirected record tax revenue and interest-rate savings into infrastructure projects in recent years, municipalities -- which oversee some 80 percent of public construction -- have identified a 159 billion-euro investment gap.
Plugging it is proving difficult: Construction companies are already drowning in orders and labor is increasingly getting scarce.
At the same time, Germany's federal structure often makes it difficult for the government in Berlin to pick up the slack. A plan to channel 5 billion euros of federal funds into digitization of schools initially failed because states rejected the conditions. After mediation, it's now expected to be approved next month.
"If we want to solve our problems, we need to change the way federal, state and local authorities work together," said Claus Michelsen, an economist at the German Institute for Economic Research in Berlin. "There's no need for a cyclical stimulus program -- in fact, the federal government is already doing quite a bit -- we're looking at structural issues."