ECB Seen Taking Time to Assess Outlook Before Issuing New Loans
(Bloomberg) -- Want the lowdown on European markets? In your inbox before the open, every day. Sign up here.
The European Central Bank will keep banks waiting for a decision on whether the euro-area slowdown is bad enough to warrant action -- before concluding that some form of its long-term loans should be revived, according to a survey.
Economists say an announcement on longer-term refinancing operations is most likely in April, after some officials recently pushed back against speculation that next week's meeting is earmarked for a verdict. That would give the ECB more time to also discuss new approaches to the tool.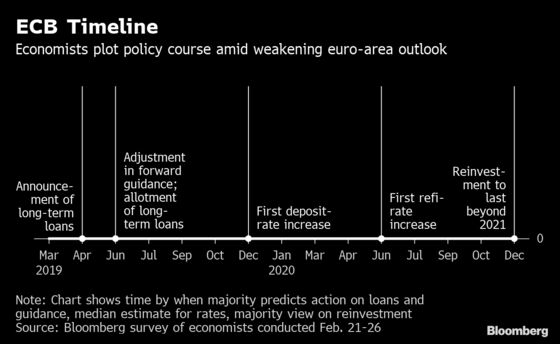 With the economic outlook worsening -- and the ECB's forecasts for growth and inflation set to see sweeping downward revisions -- respondents have also pushed out their expectations for interest-rate increases. The ECB currently pledges to keep borrowing costs on hold at least through the summer and as long as needed, but about a third of those surveyed by Bloomberg predict it will alter its guidance to signal a later lift-off.
"The ECB is a long way off from normalizing policy," said Alan McQuaid, an economist at Cantor Fitzgerald. "As things currently stand the weakening economic backdrop in the euro zone and fall-off in headline inflation warrants easier, not tighter monetary policy."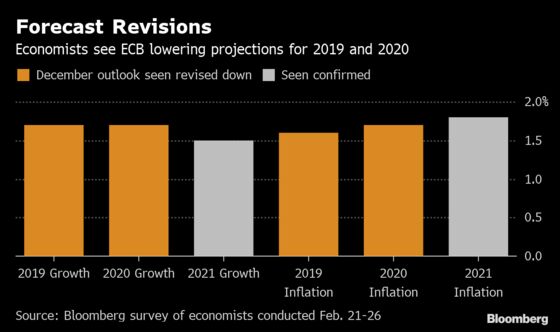 Since the Governing Council's last policy meeting, risks to growth have increased. Survey respondents consider weakening momentum in the 19-nation region the biggest threat, followed by a disorderly Brexit and global trade tensions.
Prospects of a more protracted weak phase have fueled a discussion about more ECB support -- just a few months after officials decided to cap asset purchases.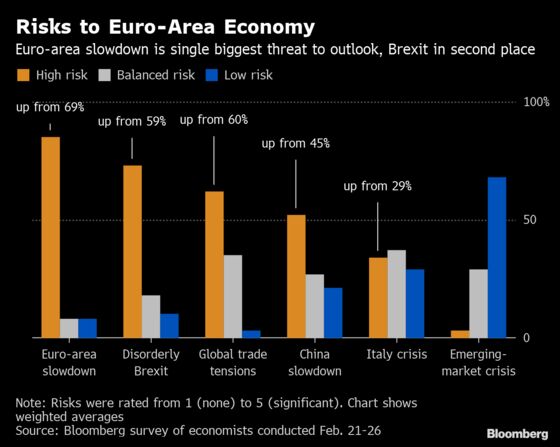 About three-quarters of economists expect the ECB to offer long-term loans designed to boost bank lending, similar to those launched in 2016. Most of the rest predict new funding won't have any strings attached, in what may be a more permanent change in how the institution provides liquidity to banks.
"If you link the loans to lending, the measure can be more credibly argued to support monetary transmission and to serve monetary policy," said Marius Daheim, SEB's chief euro-zone strategist. "If the ECB, on the other hand, were to offer unconditional long-term funding on a permanent basis, they might raise the suspicion that this would be a mere liquidity measure to help banks meet regulatory standards - which is exactly what officials have said they're against doing."
Only 33 percent of respondents anticipate an announcement at this meeting, with 39 percent betting on April. The majority sees an allotment of new liquidity taking place in June.
The deteriorating outlook has also prompted a rethink about the path of interest rates.
Even though policy makers have argued that the current slowdown is mainly due to temporary factors, economists have delayed their forecasts for liftoff to December. They predict the deposit rate -- currently at minus 0.4 percent -- won't reach zero until September 2020, five months later than previously anticipated.
Investors are even more dovish, seeing no move in rates until June 2020. Policy makers haven't disagreed with that, saying it's in line with their guidance. The majority of survey respondents see that language changing in June.
What Our Economists Say...
"A weaker economic outlook makes adjustments to the Governing Council's guidance on interest rates inevitable. But with policy makers expressing comfort with market pricing, there's little urgency."

--Jamie Murray and David Powell, Bloomberg Economics. Read our preview here.
Economists no longer expect changes to the ECB's reinvestment strategy. They see the central bank rolling over maturing debt beyond 2021.