Don't Blame Austerity for Slowing Increases in Life Expectancy
(Bloomberg) -- Improvements in life expectancy are slowing in the world's advanced economies, but it may not be the fault of austerity policies.
European countries that avoided austerity in the aftermath of the global financial crisis -- like Germany, Sweden and the Netherlands -- have seen greater slowdowns in life expectancy gains than countries where government spending cuts were the most severe, like Greece, according to an OECD working paper.
"Systematic reviews show that economic downturns and austerity are associated with deteriorating mental health and rising suicide rates, but the impact on overall mortality is less consistent," epidemiologist Veena Raleigh said in the paper.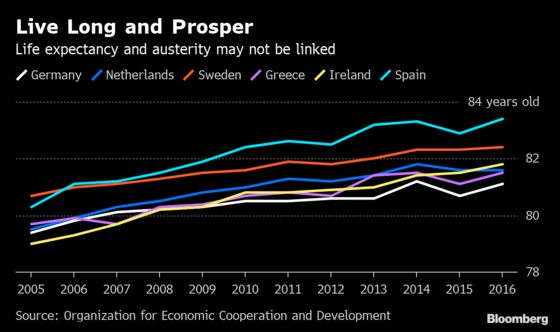 Some studies have even shown that economic downturns are associated with lower mortality, especially from road traffic accidents, according Raleigh. Still, the paper concludes that the question should continue to be monitored.
"The full scale of consequences in severely affected countries may become apparent only in the future," she said in the paper.
After more than a century of people in major industrialized economies enjoying increasingly long lives, those gains have begun flattening off in some European countries. Raleigh highlights that while smoking, excessive alcohol consumption and high blood pressure have seen a decline in recent years, obesity and diabetes are continuing to increase.