Europe Manufacturing Shrinks as Factory Woes Extend Across Asia
(Bloomberg) -- European and Asian factories charted another weak month in February amid softening global demand and trade-war jitters.
Manufacturing in the euro area shrank for the first time in almost six years, led by a German slump, and there was another contraction in China. Japan's PMI signaled the first contraction in two and a half years, while Thailand and Malaysia also worsened.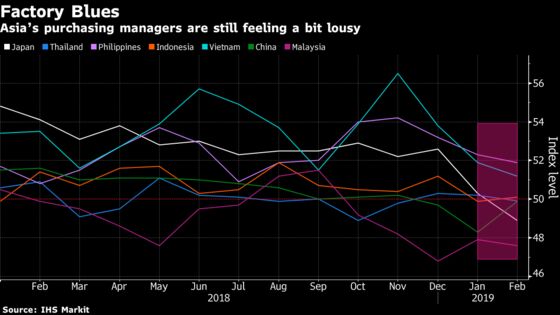 There were also signs of a bottoming out: The latest Caixin China purchasing managers headline index rose and there was an improvement in demand.
"There is a silver lining in that new orders are rebounding, primarily driven by domestic demand," said Trinh Nguyen, a senior economist at Natixis Asia Ltd. Still, things are looking 'ugly" for Asian manufacturers this quarter, she said.
China's Caixin number contrasts with the official reading Thursday that showed manufacturing activity contracting further. While figures might be a bit distorted given fluctuation in orders around the Chinese New Year holidays, the synchronized downturn across Asia is further affirmation of weakness in global demand that's shown up for months, and particularly an electronics sector that is coming down from a boom.
What Our Economists Say...
"China's Caixin manufacturing purchasing managers' index showed a surprising -- and strong -- rebound in February. The direction is consistent with the official PMI, but the small sample and higher volatility of this survey caution against placing too much faith in the size of the rebound." 
-- Chang Shu and Justin Jimenez, Bloomberg Economics. Read the full REACT 
In the euro zone, factories suffered a huge drop in orders amid mounting concern over trade tariffs and Brexit. Global trade has been ailing as the U.S. and China struggle to find a compromise that would lift tit-for-tat tariffs that have caused collateral damage.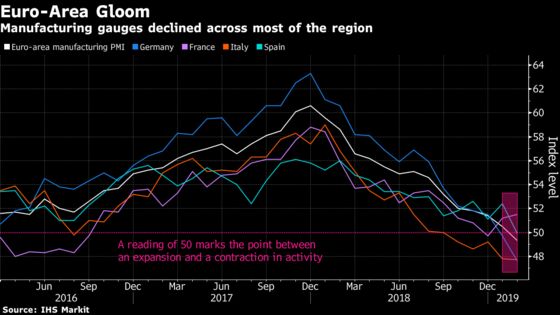 This week saw some relief for investors and businesses as U.S. President Donald Trump deferred a March 1 deadline that would have triggered a batch of new levies on China. The two sides are still tangling on provisions around currency manipulation and enforcement.
Stocks rose on Friday amid a report that U.S. officials are preparing a final trade deal that Trump and his Chinese counterpart Xi Jinping could sign in weeks. The Stoxx Europe 600 rose 0.5 percent, and U.S. equity futures were also higher.
The U.S. is eyeing a summit between the two presidents as soon as mid-March, according to a person familiar with the matter, who spoke on condition of anonymity because the preparations are confidential.