Macron, Battling Popularity Slump, Woos Voters With Tax Cuts
(Bloomberg) -- Emmanuel Macron's government presented a 2019 budget outline geared to delivering on promises of tax breaks for workers and employers as the president battles a slump in popularity.
It said households' tax bill will fall by 6 billion euros ($7.1 billion) in 2019 -- the sharpest reduction in a decade -- and levies on business will decline over 18.8 billion euros.
"The aim of this budget in the long term is to build a new French prosperity that should benefit every French person," Finance Minister Bruno Le Maire said in Paris on Monday.
To fund the cuts and help contain the deficit, the government will cap increases in pensions and benefits not linked to work and ax over 4,000 jobs in the public sector. The limit on pensions and housing and family benefits will save 3 billion euros next year.
Measure in percentage
of GDP
2017
2018
2019
Budget deficit
2.7
2.6
2.8
Structural deficit
2.3
2.2
2
Public debt
98.5
98.7
98.6
Public spending
55.1
54.6
54
Tax
45.3
45
44.2
The 2019 budget hammers home an economic strategy that's becoming increasingly unpopular: make work pay, whatever the cost. It's a hard sell for Macron, who's seen support in opinion polls plunge this year. Pensioners are protesting and cuts to welfare have galvanized opposition parties who have dubbed him the president of the rich.
"It's a choice of political philosophy: work must pay and work during this presidency will pay,'' Le Maire said.
Part of the problem now is that the government has less room for maneuver. Growth in France has slowed, making it tougher to meet deficit-reduction targets without spending cuts.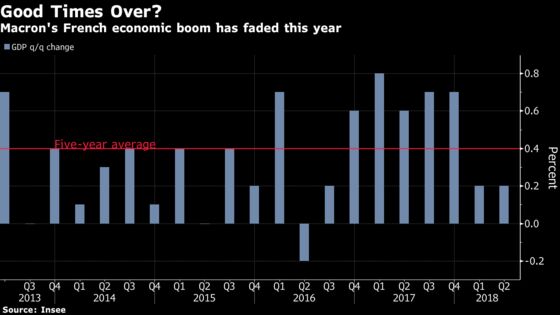 Read More:

Macron's New Outburst Gets Business Nod, Draws Web Scorn

Europe's Budget Season Means 

Headaches

 for Not Just Italy

Macron's Reform Program Is Faltering: Bloomberg Economics
In the 2019 budget, businesses will get a cash boost as Macron transforms a tax credit into a direct cut. For workers, taxes on overtime will be abolished from September next year, adding to cuts in employee contributions to health and unemployment insurance.