Rupiah Set for Central Bank Relief as RBNZ Puts Pressure on Kiwi
(Bloomberg) -- Two of the year's worst-performing Asia-Pacific currencies are poised to enter the fourth quarter with dramatically different support from their central banks.
New Zealand officials are expected to keep the possibility of a rate cut on the table when they meet Thursday, wary of a slump in business confidence even as growth has shown recent signs of picking up. That stands in stark contrast to Indonesia, where policy makers are forecast to hike rates for a fifth time in as many months to safeguard against capital flight.
It sets the stage for a rupiah rebound and kiwi underperformance through the end of the year even as both currencies suffer from trade-war angst and a downturn in emerging-market sentiment. Wellington appears unfazed by foreign-exchange weakness, given it boosts export competitiveness and spurs inflation. Meanwhile, Bank Indonesia Governor Perry Warjiyo is showing no sign of backtracking policies -- including currency-market intervention and import controls -- intended to curb the rupiah's rout.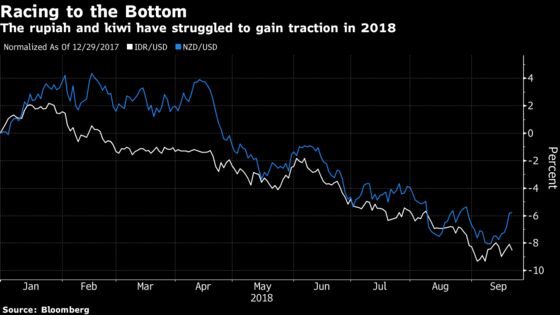 New Zealand business confidence plunged to a 10-year low in August, helping push the kiwi to 0.6501 per dollar earlier this month, the lowest since 2016. That raises the stakes for September's survey due less than 24 hours before Reserve Bank of New Zealand's decision.
While the currency has recovered in recent days on stronger-than-expected growth data, investors remain wary of a rate cut. The market-implied RBNZ policy rate in one-year's time has fallen to 1.69 percent, based on overnight index swap pricing, down from more than 2 percent as recently as April and below the central bank's current cash rate of 1.75 percent.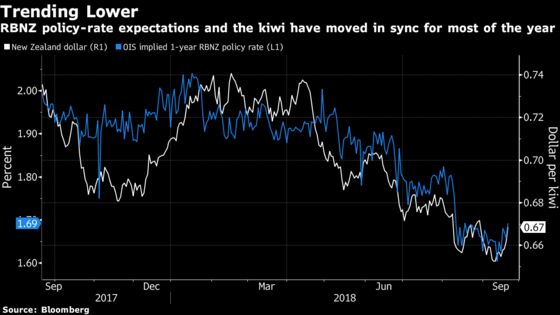 In contrast, 23 of 31 economists surveyed by Bloomberg expect Indonesia to raise rates by 25 basis points on Sept. 27, while six are calling for 50 basis points of tightening. Officials have already raised rates by 125 basis points since May and drained about 10 percent from foreign reserves this year to help bolster the rupiah.
The policy response, as well as easing worries over emerging-market contagion, have helped the currency stabilize after falling to a two-decade low of almost 15,000 versus the dollar. Bank Indonesia's decision Thursday may help reinforce the rupiah's recovery.
Below are key Asian economic data and events due up:
Monday, Sept. 24: Singapore CPI
Tuesday, Sept. 25: BOJ minutes and Gov. Kuroda speaks, Japan PPI
Wednesday, Sept. 26: New Zealand ANZ business confidence and trade balance, Singapore industrial production
Thursday, Sept. 27: RBNZ, Bank Indonesia and BSP rate decisions, Australia job vacancies, BOJ Gov. Kuroda speaks, China industrial profits
Friday, Sept. 28: New Zealand building permits and ANZ consumer confidence, Japan jobless rate, retail sales, industrial production and Tokyo CPI, BOJ summary of opinions, China Caixin manufacturing PMI and 2Q BoP current account balance, Thailand trade balance and BoP current account balance