Bank of England Officials Step Out in Force After August Hike
(Bloomberg) -- Bank of England policy makers have the chance this week to share their thoughts on interest rates now that Governor Mark Carney has said he's sticking around for longer.
Four members of the Monetary Policy Committee are making public appearances -- including the first speeches by Dave Ramsden and Gertjan Vlieghe since officials voted to hike interest rates in August.
While it's been anything but a quiet few weeks for the BOE -- with Carney making headlines by both extending his term and giving the U.K. cabinet dire warnings about a no-deal Brexit -- investors have heard little on the outlook for interest rates beyond policy makers repeating their "limited and gradual" mantra.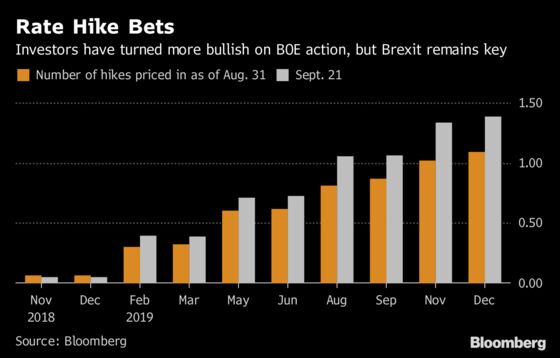 With Brexit talks still showing little signs of progress, most expect officials to stay on hold until after the U.K.'s March deadline for leaving the European Union. Still, improving economic data, and a surprise pick-up in inflation last week, have led Mizuho International and Heteronomics to expect an earlier move, meaning investors will scour officials' statements this week for any signs of renewed hawkishness.
Vlieghe is due to speak on the yield curve and quantitative easing in London on Tuesday, before Carney and chief economist Andy Haldane appear at events in Frankfurt and London on Thursday -- although those sessions are not expected to included any prepared remarks. Ramsden rounds off the busy week with a speech on the issues and outlook for monetary policy on Friday.
"We're looking for signs of tightening speed, notwithstanding the uncertainties around the Brexit discussions," said George Buckley, chief U.K. economist at Nomura in London. Nomura expects a "a hike in February, but that's based on the assumption that we get an free trade agreement deal done."
Traders are currently assigning around a 40 percent chance of a hike before the U.K.'s exit date, rising to more than 70 percent in May, although that may change quickly should the chances of the U.K. crashing out of the bloc without an agreement rise. That prospect moved a step closer last week after U.K. Prime Minister Theresa May's blueprint was bluntly rejected by European Union leaders at a bruising summit in Salzburg, Austria.
A deal is the difference between a 25-basis point rate cut or rate hike in May 2019, according to Bloomberg Economics analysis, based on the Overnight Index Swap curve. Carney warned that a no-deal outcome would mean rates could soar in comments to the U.K. Cabinet earlier this month.