Indonesia Considers Easing Taxes to Prop Rupiah: Straits Times
(Bloomberg) -- The Indonesian government is considering tax incentives for businesses to convert their dollar holdings into rupiah among measures to support its currency, the Straits Times reports, citing an unidentified government source.
The government has introduced a number of measures to ease pressure on the rupiah, which has dropped 8.4 percent this year, making it the worst performer in Asia after the Indian rupee. Finance Minister Sri Mulyani Indrawati said on Friday a team was discussing options for managing exporters' foreign-exchange earnings.
The ministry is also reviewing a tax policy implemented on government bonds to address rising yields, and may simplify the tax treatment on sovereign paper, according to Suahasil Nazara, head of the fiscal policy office at the Finance Ministry.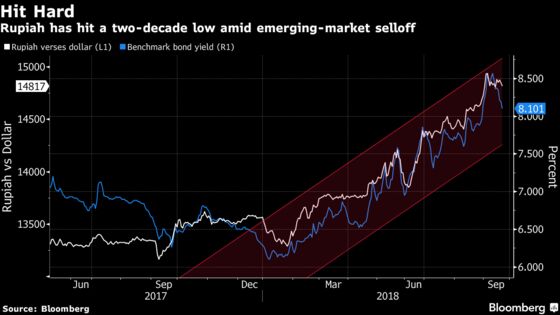 Indonesia's rupiah, stocks and bonds have suffered along with other emerging-markets assets as U.S. interest rates are becoming normalized and concerns about contagion rattle investors' confidence.
The pressure intensified after the central bank said the current account deficit widened to 3 percent in the second quarter from 2.2 percent in the previous three month.