Fed Hike, China Hold: What to Keep Your Economy Eye On Next Week
(Bloomberg) -- Three points on the week ahead are easy to predict. The Federal Reserve will hike rates. The People's Bank of China will not. Trade tensions will persist.
What this means for the yuan -- only recently back from the threshold of seven to the dollar -- is harder to say. Pressure from both rate differentials and trade, though, will be for a weaker currency. Signs of a significant drop would have the PBOC delving into their toolkit to provide support.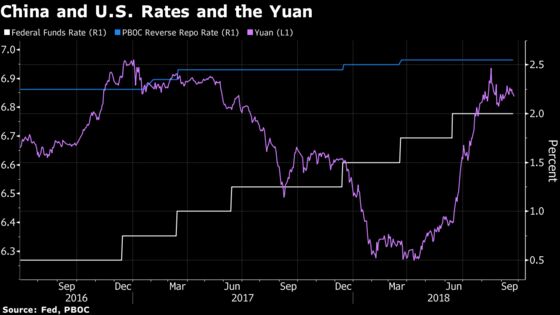 If the Fed doesn't hike interest rates for the eighth time in the current cycle at its meeting Wednesday, that would be a major surprise. Inflation is at the 2 percent target, unemployment is at 3.9 percent, and wage growth is at a post-financial crisis high. A 25-basis point increase to a 2 percent to 2.25 percent target range is widely anticipated. Chief U.S. Economist Carl Riccadonna expects market reaction to focus on the update to economic and financial forecasts, which will be parsed for indications on the future trajectory of policy.
If all the U.S. indicators are flashing a green for go on rate hikes, in China the lights on the People's Bank of China's dashboard are flashing red for stop. Investment growth is running at a 20-year low. Retail sales have slumped. The Politburo has signaled that the priority has shifted from deleveraging to supporting growth. The PBOC already broke with past precedent in June, holding as the Fed hiked. In September, that pattern will very likely be repeated.
On trade, China is attempting to dial down the tensions. Bloomberg News reported Beijing is considering a broad cut in import tariffs -- presumably including for the U.S. if the trade war is called off. We'll see what the details look like, but it appears China is trying to beat a dignified retreat. Whether they succeed in creating conditions for a ceasefire, and ultimately cessation of hostilities, remains to be see. U.S. concerns go beyond tariff rates to China's state-centric development model.
The combination of narrowing rate differentials and continued trade uncertainty means the yuan will face renewed pressure. It was the PBOC's hold in June that was the trigger for the yuan's recent drop toward seven to the dollar. The second time around, the element of surprise will be reduced. But signals on the future path for the Fed could still be a signal for further yuan weakness. On trade, hostilities resumed would be a signal for yuan weakness. But hostilities suspended on an expectation of more Chinese imports might be, too.
The wild card is the PBOC. China's policy makers have a suite of options, from jawboning the market through tweaks to the yuan's daily fixing and - ultimately - hardening of capital controls, that they can and do use to guide the currency. The more extreme options won't be necessary. If the yuan resumes its slide toward seven, expect the more targeted interventions to come into play.
For a more detailed look, read Bloomberg Economics' comprehensive previews of the week ahead for the U.S., EMEA, Asia and Latin America.
The Federal Reserve is due to hike interest rates for the eighth time of the current economic cycle at its policy meeting on Wednesday. This 25-basis-point increase to a 2 percent to 2.25 percent target range is broadly anticipated, so any market reaction will likely relate to a shift in expectations for future policy as central bank officials are due to update their economic and financial forecasts. Any discussion about the ongoing balance sheet unwind would deserve heightened attention -- the reduction reaches maximum speed next month.
-- Carl Riccadonna
Bank of Canada Governor Stephen Poloz is scheduled to present an assessment of economic conditions on Thursday in Moncton, New Brunswick. Then on Friday the monthly GDP release for July will be a first look at whether the strong pace of growth in the second quarter is carrying through to the current period.
-- Tim Mahedy
Colombia's central bank is likely to hold the interest rate steady at 4.25 percent on Friday. Weak economic growth consistent with a negative output gap and well-behaved inflation and inflation expectations support forecasts for the central bank to maintain policy accommodation.
-- Felipe Hernandez
The main economic news next week comes from Italy. We'll know by Thursday whether Finance Minister Giovanni Tria held out against demands from the country's ruling coalition to loosen the purse-strings -- a spendthrift budget could prompt a material market backlash.
Germany releases the Ifo survey on Monday and inflation figures on Thursday. With Germany, France and Spain all forecast to have stable inflation readings in September, we expect the headline euro-area rate to remain at 2 percent on Friday.
-- David Powell
China's Caixin purchasing managers' index was only narrowly in expansionary territory in August. We expect the PMI to edge down for a fourth straight month in September. We'll be watching the export orders sub-index closely – it's been below the 50 level that divides improving and deteriorating conditions for the five months through August.
-- Qian Wan
In Japan, the data to watch are industrial production. The main focus will be on the production forecasts for September and October. With the U.S.-China trade war likely to damp supply-chain demand, weak projections would suggest the Japan Inc. may be starting to feel the impact.
-- Yuki Masujima
Nigeria and Kenya are likely to keep interest rates on hold on Tuesday.
-- Mark Bohlund