Pound Slumps Most in 10 Months After May Sticks to Brexit Guns
(Bloomberg) -- The pound slumped and gilts rallied after U.K. Prime Minister Theresa May warned that Brexit negotiations were at an impasse.
Sterling fell the most since November as May said the U.K. and European Union were a long way apart on key issues and reiterated that no deal was better than a bad deal. Friday's newspaper front pages in Britain talked of May's "humiliation" at the EU's Salzburg summit, just days before she is set to face scrutiny from her party at its annual conference.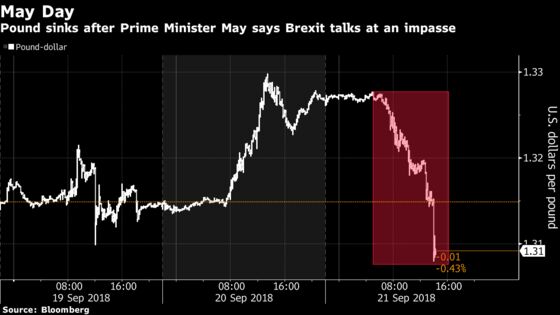 "The read-through is the U.K. under May will not move," said Gavin Friend, senior markets strategist at National Australia Bank. "That's not GBP-positive, and we stay with our view that the 2.5 percent rebound seen in the trade-weighted pound in the last few weeks went too far."
The pound dropped as much as 1.5 percent to $1.3064, after having climbed to $1.3298 on Thursday, the highest level since July. The yield on 10-year gilts fell three basis points to 1.56 percent.
May's Chequers proposal on the frictionless border with the EU and the U.K.'s stance on avoiding a hard border in Ireland, coined after a meeting with cabinet ministers at the Prime Minister's country retreat, has been widely rebuffed by EU leaders as well as prominent members within her own party.
Continued deadlock between the U.K. and the EU would imply a greater chance of a no-deal Brexit, which strategists have said would trigger a drop in the pound comparable to that seen after the 2016 referendum. Three-month volatility in pound-dollar, which covers a potential November Brexit summit, touched the highest level since February, while the implied-realized volatility premium was at its steepest since the referendum.
"May seems willing to call the EU's bluff here, sticking to her guns," said Valentin Marinov, head of Group-of-10 foreign-exchange research at Credit Agricole SA. "Trading GBP off the Brexit headlines has been plagued by fatigue in recent days, and we may see a bit of revival in the downside GBP hedges."