Rupee Rallies on Report RBI May Supply Dollars to Oil Importers
(Bloomberg) -- The Indian rupee rallied the most in almost four months following a ET Now television channel report that the central bank is studying a possibility of allowing oil companies to purchase dollars directly from it instead of market. Sovereign bonds also advanced, tracking gains in the currency.
The currency gained 0.8 percent, the biggest since May 25, to close at 72.3788 per dollar Wednesday, after rising as much 0.9 percent following the news report about Reserve Bank of India selling dollars directly to oil companies. The rupee declined 1.5 percent in the two days to Tuesday as measures announced by the government late Friday were deemed insufficient to curb the declines in Asia's worst-performing currency.
"This move, if it happens, will take the pressure off the rupee," said Paresh Nayar, the Mumbai-based head of currency and money markets at FirstRand Ltd. "Now, the market participants will be eagerly looking forward to the actual announcement and also curbs on non-essential imports to reduce the current account deficit."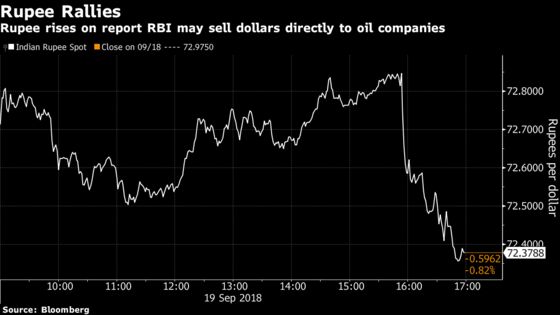 The rupee has declined about 12 percent this year in Asia's worst performance as an emerging-market rout raises investor scrutiny of countries with worsening balance of payments.
Sovereign bonds advanced, with the yield on 10-year bonds falling seven basis points, to 8.07 percent. That is the sharpest drop in yield since Aug. 1.