Conte Pledges Italian Deficit Below 2% to Keep Investors Onside
(Bloomberg) -- Five Star leader and deputy prime minister, Luigi Di Maio, demanded a bold spending program for Italy next year while the premier, Giuseppe Conte, warned of the risks of scaring off investors.
Di Maio said Italy should let its budget deficit rise beyond 2 percent of GDP if that's what's needed to deliver on its commitments to voters, Ansa newswire reported. Five Star is trying to push out a senior finance minister official who they say has been obstructing their spending plans, newspaper La Stampa said.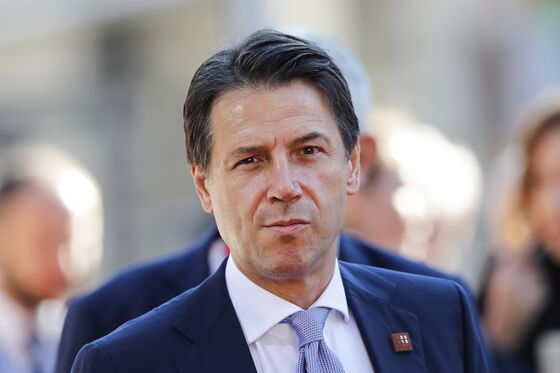 The League, the second political force in the government, also argues that the administration should be ready to let the shortfall go beyond 2 percent, according to Corriere della Sera.
"If a little bit of extra deficit is also needed to improve Italians' conditions, we are going to do that as that is the priority," Di Maio said Thursday in a radio interview. "We won't increase the deficit just to give money away, rather for a credible plan."
Di Maio and League leader Matteo Salvini, his fellow deputy prime minister, are trying to stretch European Union deficit rules as far as possible to deliver the tax cuts and extra benefit spending they've promised their voters. Conte, a law professor with no political base of his own, is fighting to contain their ambitions and persuade them the country's interests will be better served by financial restraint.
Five Star "is repeatedly demanding that their flagship policy, the citizenship income, be implemented in full already next year, rather than through a more gradual approach," Unicredit economists Edoardo Campanella and Chiara Silvestre wrote in a note Wednesday. "The debate within the government is heating up."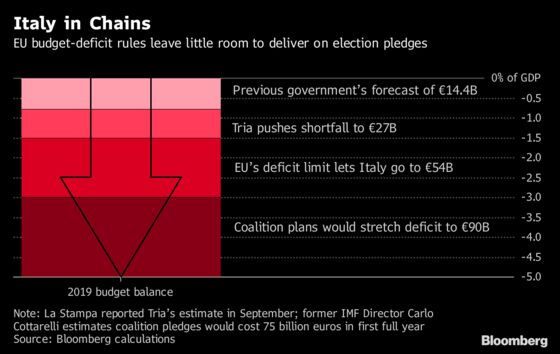 Arriving at an EU summit in Salzburg, Austria, on Wednesday, Conte signaled that the budget deficit won't exceed 2 percent of output and Italy must ensure investors retain their confidence in the country.
"The government will produce a credible, courageous budget which responds to demands of citizens," Conte said. "We must be credible for markets because we want investors to invest in Italy."
Il Messaggero of Rome said beleaguered Finance Minister Giovanni Tria was ready to cap the 2019 deficit at 1.8 percent of gross domestic product, wider than the 1.6 percent he was previously reported to have favored.