Kuroda Stays the Course, Helping Abe Toward Record-Beating Run
(Bloomberg) -- Bank of Japan Governor Haruhiko Kuroda is pushing forward with massive monetary stimulus, set to drive the Abenomics era well into 2019 just as its architect prepares to extend his premiership.
A day before Shinzo Abe readies for victory in a party vote that could make him Japan's longest-serving prime minister, the central bank on Wednesday kept its monetary policy unchanged and reaffirmed its commitment to reaching 2 percent inflation.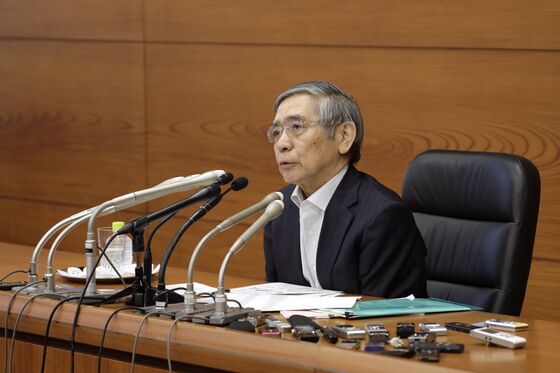 Abe's re-election will ultimately serve as an endorsement of his mix of monetary easing, regulatory reform and fiscal flexibility. He appointed Kuroda to head the BOJ in 2013 and the two have worked together for the past five-plus years to wrench Japan free of deflation once and for all.
Whether the BOJ exits in triumph with inflation at 2 percent, or finds its stimulus finally unsustainable, avoiding financial instability when policy is wound back will require Abe and Kuroda to remain aligned.
"Mr. Abe and Mr. Kuroda have been a team during the unprecedented expansion of Japan's financial policy," said Martin Schulz, an economist at Tokyo's Fujitsu Research Institute. "They need to become almost identical twins when policy needs to tighten."
As huge as the BOJ's monetary program is, most economists surveyed by Bloomberg see "stealth tapering" already underway. And Kuroda and Abe have both said they want policy normalization eventually.
Wednesday's board meeting reaffirmed policy adjustments in July that were aimed at making the BOJ's stimulus more sustainable in the meantime. They keep settings easy enough to hopefully support the economy through a sales-tax hike Abe has planned for October next year, while leaving the door open to eventual exit.
As predicted by BOJ watchers, the central bank again maintained its 10-year bond yield target, asset purchases and guidance on interest rates.
The decision leaves the BOJ even further behind its global peers, who are moving more decisively toward pre-crisis monetary policy. The Federal Reserve is expected to raise interest rates again next week, and the European Central Bank said it planned to phase out its bond-buying by the end of the year.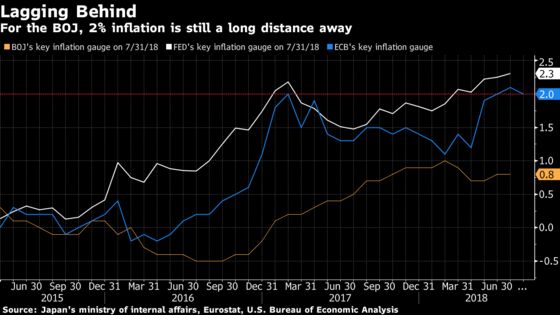 Takatoshi Ito, a close friend of Kuroda's who was considered a candidate to replace the governor when his first term expired earlier this year, said on Bloomberg TV that the July changes amounted to the "very quiet first step toward the exit." The BOJ's priority will be keeping calm in the markets while gradually tapering its bond and equities purchases, Ito said.
Kuroda said during a news conference Wednesday that it was too soon to assess the impact of the recent changes, but that bond market functioning had improved. He conceded that regional banks had taken on more risk as their profitability declined, but added that demographics were a source of their problems. The BOJ will monitor their lending closely, he said.
"Whether it's monetary easing or tightening, no one wants to continue it forever," Kuroda said. "It's the same with central banks everywhere. They want to achieve their objectives as quickly as possible, and then start the normalization process."