No-Deal Brexit Would Inflict Substantial Costs on U.K., IMF Says
(Bloomberg) -- The International Monetary Fund added its voice to calls for U.K. Prime Minister Theresa May to strike a Brexit deal with the European Union.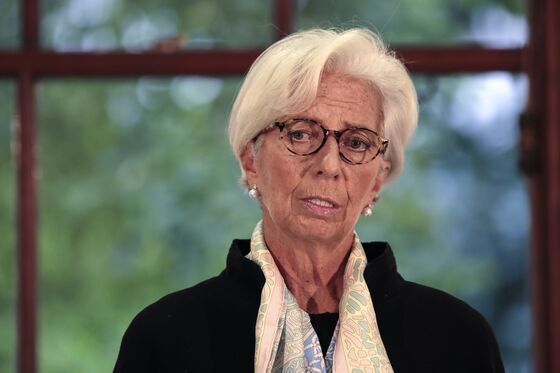 All options for leaving the EU involve costs, but departing without a deal would inflict "substantial costs for the U.K. economy, and to a lesser extent the EU economies -- particularly if it were to occur in a disorderly fashion," the Washington-based IMF said on Monday. Until a deal is reached, Brexit uncertainty is likely to weigh on investment, it said.
The organization is predicting "moderate" growth of about 1.5 percent this year and next -- a forecast based on a timely trade pact and a relatively smooth exit process thereafter. A more disruptive departure could lead to "a significantly worse outcome," the IMF said.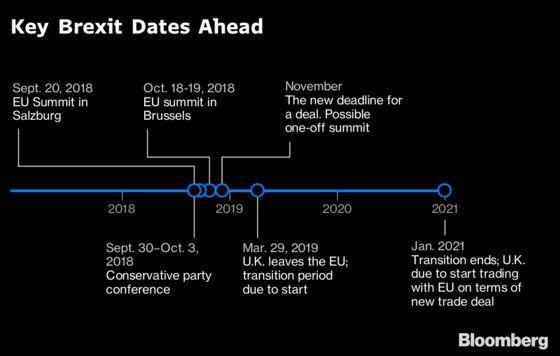 The IMF's warnings over a disorderly Brexit come just days after Bank of England Governor Mark Carney joined a Cabinet meeting that was convened to discuss planning for what happens if Britain crashes out of the bloc without a deal. He outlined worst-case scenarios used by the central bank, including house prices tumbling, a falling pound and higher trade tariffs.
In a joint press conference with IMF Managing Director Christine Lagarde, U.K. Chancellor Philip Hammond said that Britain must heed the body's warnings, and it was vital that the nation reaches a Brexit agreement. A no-deal outcome was unlikely but not impossible, he said.
May is seeking a deal that keeps close trading ties to the EU but her so-called Chequers plan is fiercely opposed by Euroskeptics, who say she is betraying their vision of a U.K. free to set its own rules and strike trade deals anywhere. Speculation is rife that former foreign secretary Boris Johnson, who is popular with grassroots Tories, is preparing to challenge her for the leadership of the Conservative Party.
The next few weeks will be crucial. The prime minister addresses her party conference on Oct. 3; navigate that, and an EU summit later that month beckons. Both sides could be in a position to confirm a Brexit agreement at a specially convened meeting in November.
It's not clear whether Tory Brexiteers have the numbers to oust May, but the risk is that they try anyway, throwing the government into chaos with the clock ticking down toward Britain's departure from the EU in March.
Britain faces a "daunting" task to be ready for Brexit, the IMF said, and the fiscal costs will far outweigh the money saved as a result of no long paying into the EU budget. Such is the level of uncertainty that the BOE should await "clear confirmation of a durable rise in domestic cost pressures" before further withdrawing monetary stimulus.
A disorderly Brexit would cause the British economy to contract, weaken the currency and push up the budget deficit, Lagarde warned.
"The larger the impediments to trade in the new relationship, the costlier it will be," she said. "This should be fairly obvious, but it seems that sometimes it is not."