ECB's Makuch Says He May Quit Before 2020 Slovak Elections
(Bloomberg) -- European Central Bank Governing Council member Jozef Makuch said he might not finish his second term at the helm of Slovakia's monetary authority to allow the appointment of his successor before 2020 general elections.
Makuch said there is a chance that the ballot will have an inconclusive result, and that's "the only reason" why he would consider stepping down before the end of his term in 2021. Opinion polls show the current ruling coalition, led by the leftist Smer party, may lose its majority, while support for anti-establishment and euro-skeptic forces is growing. Central bank governors need to be approved by lawmakers.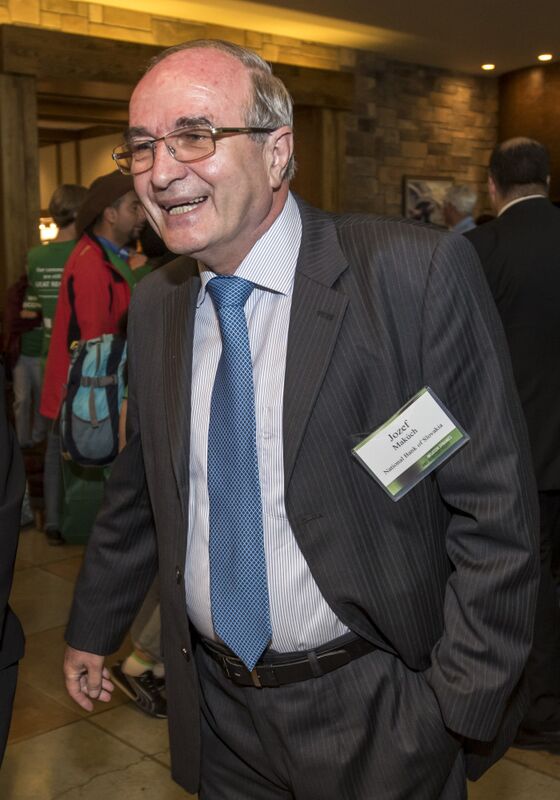 "The new parliament may have a big problem electing somebody," Makuch told reporters on Sept. 14 in Stary Smokovec, Slovakia. "The question is whether it wouldn't be better for the central bank if the governor is elected before the election."
Makuch, 65, was reacting to reports in local media that Finance Minister Peter Kazimir is considering leaving the government and may seek the post. The Finance Ministry has declined to comment on the newspaper reports, which didn't say where they got the information.
While Makuch refused to say whether any succession plan has been agreed, he said Kazimir "would be a good governor" despite lacking central banking experience.
Kazimir, who is half-way into his second term as the finance minister, was known for his tough stance toward Greece during its bailout negotiations. A member of Smer, he oversaw a plan to reduce Slovakia's fiscal deficit and pledged a balanced budget by 2020. Earlier this year, he lost the race for the Eurogroup presidency.
Kazimir has a lot of international experience from meetings of European Union finance ministers, according to Makuch.
"The fact that he hasn't worked for the central bank isn't a handicap," Makuch said. "He wouldn't have a problem with its independence."
(An earlier version of the story was corrected to change the date of Makuch's comments in the third paragraph.)