Coeure Says ECB May Need Clearer Policy Guidance When Rates Rise
(Bloomberg) -- The European Central Bank may need to give clearer guidance on the pace of interest-rate increases once it eventually starts tightening policy, Executive Board member Benoit Coeure said on Monday.
While the ECB currently expects to keep rates at record lows "at least through the summer of 2019" -- which investors have interpreted as meaning a hike late next year -- officials have given no indication how fast they expect to act after that so-called lift-off.
Coeure said the complex policy environment, with the central bank's balance sheet bloated by its asset-purchase program and the dynamics behind inflation since the financial crisis still uncertain, mean past strategies such as signaling rate hikes a month or two in advance may no longer be appropriate. Instead, the central bank should consider saying what economic data it would need to see before acting.
"Communication about lift-off expectations is, of course, only a first step in managing the transition towards policy normalization," Coeure, who is in charge of the ECB's market operations, said in Berlin. "State-contingent forward guidance could clarify the pace with which policy makers expect to remove policy accommodation beyond the timing to lift-off."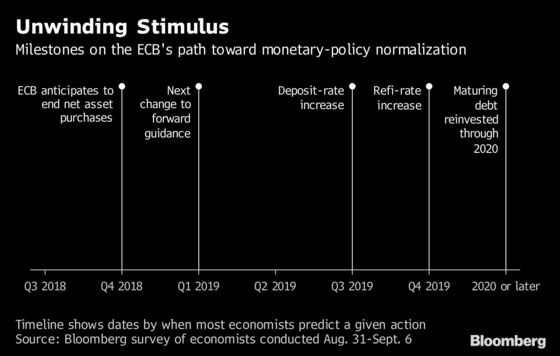 Coeure cautioned against going as far as publishing a precise numerical forecast for future path of rates, saying the risks would probably outweigh the benefits. That's because the central bank has "little or poor information" on concepts such as the neutral level of rates -- the level that neither stimulates nor drags on the economy -- once all shocks have dissipated.
Forward guidance linked to economic data can be problematic. When Mark Carney started as Bank of England governor in 2013, he said a drop in unemployment to 7 percent would be the trigger to consider raising rates. The U.K. blew past that level within six months without much sign of faster inflation.
Federal Reserve Chairman Jerome Powell argued in his Jackson Hole speech last month that academic estimates of how the economy works were at best "hazy" navigational guides in setting policy. Coeure acknowledged the risks.
"Put simply, transparency around future policy intentions is likely to be welfare-enhancing if the central bank has established a convincing track record of systematically beating private-sector inflation forecasts," Coeure said. "But neither the private sector nor central banks have been particularly good recently at predicting inflation."