May Warns Restive Tories She Won't Back Off Her Brexit Plan
(Bloomberg) -- Prime Minister Theresa May gave a steadfast defense of her plans for Britain's departure from the European Union ahead of key talks this week, while admitting to feeling "irritated" at speculation building within her Conservative Party about a potential leadership challenge.
European leaders gather in Salzburg, Austria, on Wednesday to try to advance Brexit negotiations, which have been stalled over how to avoid a hard border with Ireland after Britain leaves the EU. The most ardent Brexiteers have called on her to drop her proposal --thrashed out with the Cabinet at her Chequers retreat in July -- to secure a frictionless border by keeping Britain closely tied to EU trade rules.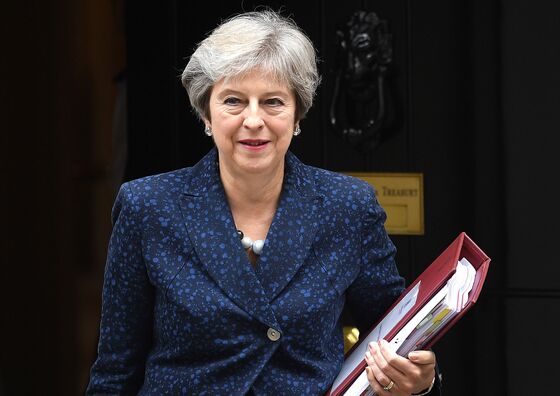 "The only proposal that's been put forward that delivers on them not having a hard border and ensures that we don't carve up the United Kingdom, is the Chequers Plan," May told the BBC, according to excerpts of the interview released ahead of its broadcast Monday.
But a "chuck Chequers" movement is gathering momentum among euroskeptic Tories, and rumors continue to swirl about a formal attempt to oust May if she doesn't back down. Former Foreign Secretary Boris Johnson, the favorite in surveys of Tory party members to be the next leader, has likened her Brexit approach to strapping on a suicide vest and handing Brussels the detonator.
"This is where I get a little bit irritated," May told the BBC. "This debate is not about my future, this debate is about the future of the people of the U.K. and the future of the United Kingdom," she said, adding that Johnson's language was "completely inappropriate."
The next few weeks look crucial for both May's government and how the U.K. negotiates Brexit, with the prime minister scheduled to deliver a speech at the Conservative Party annual conference on Oct. 3.
It's not clear whether the Tory rebels have the numbers to oust her, and they must also consider that the process could take months -- at a time when the clock is ticking toward Britain's departure from the EU in March -- if it includes a full ballot of the party's membership.
Johnson is the most popular contender, though he's not certain to win the support he would need from Tory colleagues in Parliament. Perhaps even more significantly, the plotters know that party rules dictate that if a leadership challenge fails, they would have to wait another year before trying again.
Trade Secretary Liam Fox called on Conservatives Sunday to back May and her Brexit plans, saying the prime minister is "doing a great job in difficult circumstances" without a majority in the House of Commons.
"Supporting the prime minister now is in our national interest," Fox said on Sky News. "Certainly if she wants to continue on to the next election she will have my support, and I think a British prime minister that delivers a successful Brexit will have the support of the British public."
Environment Secretary Michael Gove also called May's plan "the right one for now," though he pointed out that "a future prime minister could always choose to alter the relationship between Britain and the European Union."
"We have got to make sure that we respect that vote and take advantage of the opportunities of being outside the European Union," Gove told the BBC.
May gave no indication of wavering. She appeared to embrace former Chancellor of the Exchequer Ken Clarke's famous description of her as a "bloody difficult" woman, telling the BBC that person is "still there" and that it's a trait she's prepared to use when needed.
"There's a difference between those who think you can only be bloody difficult in public, and those who think actually you bide your time, and you're bloody difficult when the time is right -- and when it really matters," she said.