I Cry for Thee, Argentina, and Your Suffering Peso, Bono Says
(Bloomberg) -- Argentines tired of the pessimism around their struggling economy have at least one powerful advocate on their side: Bono
The U2 frontman and globe-trotting philanthropist, speaking to fans outside a Paris hotel, came out in support of the country, its beleaguered President Mauricio Macri and even the peso, the world's worst-performing currency this year.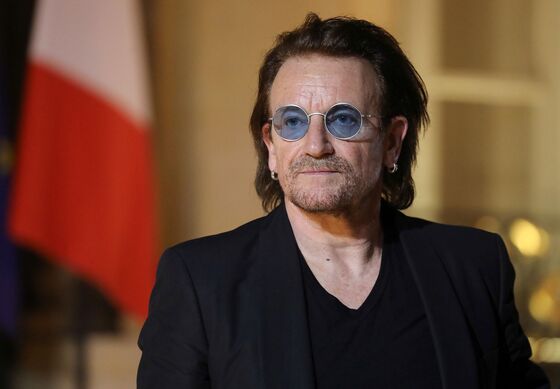 "We really believe in Argentina. We really believe that you're going to show some leadership," he said in a video posted to social media. "I think it's very unfair what has happened to the currency. It's like, not right for the Argentine people."
With the peso having lost more than half of its value this year and foreign investors fleeing, Argentina has boosted its key interest rate to 60 percent and turned to the International Monetary Fund for a $50 billion credit line. Officials are asking the IMF to speed up a portion of the funding as they seek to soothe investor concern about the government's ability to cover its financial needs next year amid a presidential election.
Juan Jose Casanovas, a law student from Buenos Aires who filmed the video, said he asked Bono about Argentina because of the upcoming G-20 summit in Buenos Aires and because of the singer's work with the ONE Campaign, a non-profit that fights poverty and disease.
"While he is my hero, it surprised me how he knew that the poorest people are the ones who suffer the most due to our currency affairs," Casanovas said in a text message to Bloomberg. "It's remarkable how informed he is on world issues."