Super Typhoon Puts Philippines on Storm Alert Ahead of Landfall
(Bloomberg) -- Philippines authorities are evacuating thousands of people in the path of Super Typhoon Mangkhut to safer grounds hours before the cyclone slams into the country's northern provinces.
Hong Kong, which is bracing for the storm on Sunday, is most likely to issue a typhoon signal No. 8, the city's observatory assistant director Cheng Cho Ming said at a joint departmental press conference. A signal No. 8 -- the third-highest -- will trigger a stock market trading suspension if it stays at that level after 9 a.m. on Monday.
Areas in South China are also gearing up for the typhoon, according to statements from local governments. Taiwan, which is now expected to avoid a direct hit, has issued a sea warning.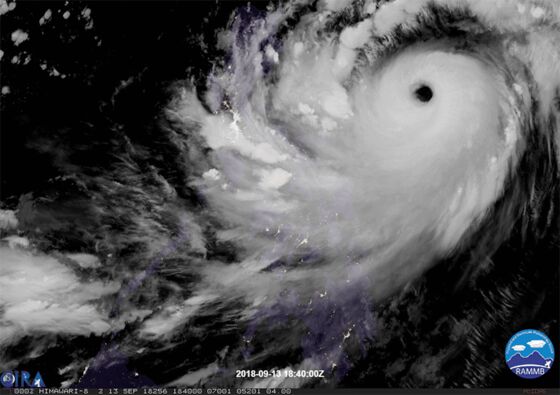 The storm is forecast by the U.S. military's Joint Typhoon Warning Center to pack maximum winds of the equivalent of 173 miles per hour (278 kilometers per hour) -- about the take-off speed of an Airbus A320 plane -- while gusts are expected to be as strong as 207 miles per hour.
Mangkhut, a Category-5 typhoon, is expected to hit land in either Cagayan or Isabela province in the Philippines between 5 a.m. and 8 a.m. local time on Saturday, Chris Perez, a state weather forecaster, said in a televised briefing.
Mangkhut's expected landfall comes as another major storm plummets through the Atlantic, with Hurricane Florence swirling closer to the U.S. East Coast, battering the Carolinas with water and wind and threatening to unleash widespread destruction. The Category 1 hurricane's eyewall was beginning to reach the Carolina coast and the storm was moving with maximum sustained winds of 90 miles an hour.
The Philippines has evacuated 13,000 people out of the almost 1 million who are living in coastal areas, or homes made of light materials, Edgar Posadas, spokesman of the disaster-monitoring agency, said. President Rodrigo Duterte has allotted almost 2 billion pesos ($37 million) in stand-by funds for Mangkhut, but he said government may need foreign aid if the impact proves severe.
About 5.2 million Filipinos live in the path of Mangkhut, Posadas said, higher than the 4.3 million estimate the agency made on Thursday.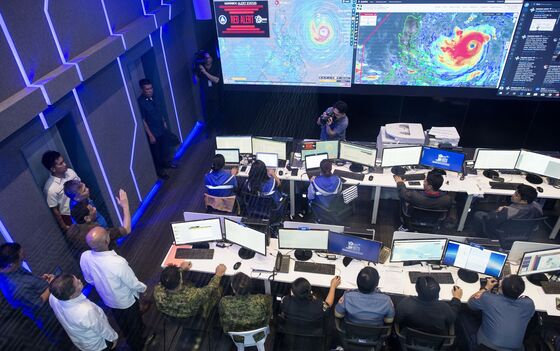 Mangkhut could affect as many as 36.7 million people in the region, according to the United Nation's Global Disaster Alert and Coordination System's latest estimate. About 20 cyclones pass through disaster-prone Philippines each year. In 2013, Super Typhoon Haiyan, which packed winds as strong as 315 kilometers per hour, killed more than 6,300 people.
The Philippine weather bureau raised the signal to No. 3 in a five-step storm warning system in 10 provinces including Cagayan and Isabela. Lower alerts are in place for the rest of the main Luzon island including the capital region. Most schools and some offices in Luzon are shut.
The benchmark Philippine stock index fell 1.4 percent, the biggest decline in Asia, amid concerns that the storm will aggravate the country's inflation woes.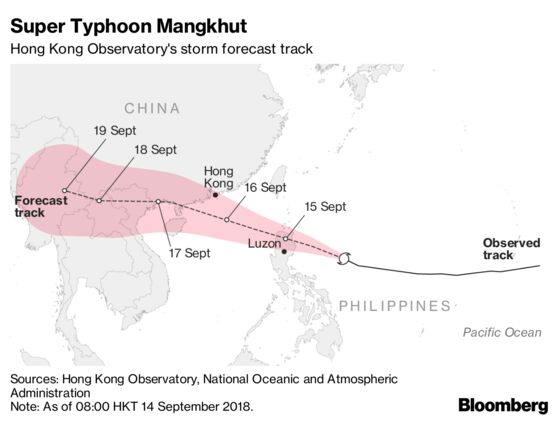 In Hong Kong, the government urged people to stay indoors. It's also opening 48 temporary shelters once typhoon signal No. 3 is issued.
"We are taking every step to prepare Hong Kong for this typhoon because we are advised that this is a super typhoon," the city's Chief Executive Carrie Lam told reporters earlier on Friday.
In China's Guangdong, residents of low-lying areas are being prepared for evacuation, and fishing boats are being asked to come back to shore. The government in Hainan will stock up on food supplies.
More than 4,600 passengers are stranded in various Philippine ports, according to the coast guard, while sea travel in several ports as far the southern island of Mindanao is prohibited.
Philippine Airlines Inc., Cebu Air Inc. and other airlines canceled about three dozen flights on Friday and Saturday. Cathay Pacific Airways Ltd. encouraged passengers traveling to and from Hong Kong on Sunday and Monday to re-book and the airline will waive the fees.
While areas along the storm's path have experienced similar category 5 typhoons, "Mangkhut's swathe here is wider, so that means a lot of ground will be covered, and it is still very capable of creating a lot of suffering for people," Senator Richard Gordon, who is also chairman of Philippine Red Cross, said in a statement.