Russia Pivots to Rate Increases After First Hike Since 2014
(Bloomberg) -- Russia's central bank unexpectedly raised interest rates for the first time since 2014, following its counterparts across emerging economies as inflation risks mount with a slumping currency and threats of U.S. sanctions.
Policy makers said they'll "consider the necessity of further increases" after lifting their benchmark to 7.5 percent, a level last seen in March, from 7.25 percent, according to a statement on Friday. Governor Elvira Nabiullina, who first broached the possibility of a rate hike earlier this month, said easing may not resume for more than a year.
"The quick monetary-policy response will limit the growth of inflationary risks in the future and create the conditions for easing policy by the end of 2019 or the first half of 2020," Nabiullina told reporters in Moscow. Further tightening isn't inevitable, but it can't be ruled out, she said.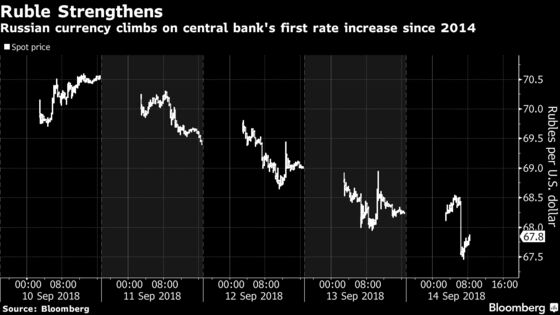 The ruble flipped to gains after the decision, rallying for one of the best performances in emerging markets on Friday. In a sign of concern that the ruble will remain under pressure for months, the central bank will also extend its suspension of foreign-currency purchases until the end of December.
Turning a page on almost four years of monetary easing, the central bank ended a pause that started after U.S. sanctions in April sent markets into a nosedive and revived risks for inflation. Nabiullina opted for a hike despite appeals from top government officials before the meeting. A Kremlin economic aide called such a move "highly undesirable."
The Russian currency rallied after the rate announcement before paring its advance and trading 0.4 percent stronger against the dollar as of 3:59 p.m. in Moscow. Before the decision, it had lost more than 8 percent since the last time the central bank reviewed rates at the end of July.
By making imports more expensive, a weakening exchange rate threatened to fan price growth, with policy makers sharply increasing their forecasts for inflation.
Nabiullina is the latest central banker in emerging markets to hearten investors with higher borrowing costs in the twilight of the easy-money era. This year's developing-nation turmoil was fueled by climbing rates in the U.S., escalating trade tensions between China and the U.S. as well as other risks.
In Russia's case, the local dangers come from the threat of tougher sanctions. Lawmakers in Washington are hammering out bills that in their harshest form could block sales of new sovereign debt and shut the nation's biggest banks out of the global financial system.
What Our Economists Say...
A hike was always a possibility, and it shows growing concern about the inflation outlook. Even a temporary overshoot could push up expectations and allow faster price growth to become entrenched. That calls for tightness but not a tightening cycle -- we expect policy makers to stop here.

--Scott Johnson, economist, Bloomberg Economics

For more, see his RUSSIA REACT 
The central bank said inflation is on track to accelerate and reach its target of 4 percent already this year. Annual price growth will peak in the first six months of 2019, reaching 5 percent to 5.5 percent by the end of next year and then slowing to 4 percent in the first half of 2020, according to the statement on Friday.
Inflation expectations among households, which the central bank calls a "pillar" of its rate decisions, rose in August to 9.9 percent, more than triple the current inflation rate and the highest reading in almost a year.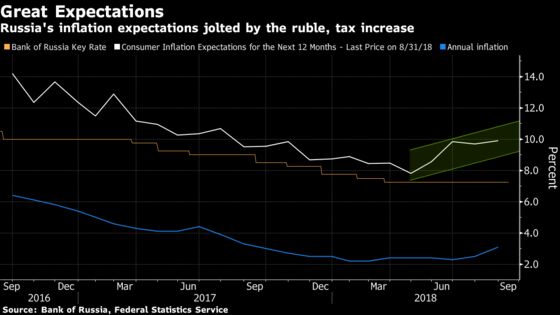 Nabiullina said the central bank still sees the level in borrowing costs when monetary policy doesn't contribute to a slowdown or acceleration of inflation relative to the target as a nominal key rate of 6 percent to 7 percent over the medium and long term. But faster price growth and higher risk premium mean that for the moment, rates are already "neutral," according to the governor.
"The balance of risks argues, in our view, for a gradual continuation of tightening until the end of the year," said Ivan Tchakarov, an economist at Citigroup Inc. in Moscow. "The expectations that geopolitical pressure on Russia might strengthen around the midterm election in the U.S. in November provides a strong rationale for the Russian central bank to continue hiking rates in small steps at the remaining two policy meetings in 2018."