Rupee Rallies With Bonds as CPI Eases, Support Measures Expected
(Bloomberg) -- India's rupee and sovereign bonds climbed as slowing inflation added to optimism that policy makers will take steps to stem a rout in Asia's worst-performing currency.
Consumer price growth eased below 4 percent for the first time in 10 months, according to a report late Wednesday, which followed comments from an official that the government may announce support measures. Local markets were shut Thursday for a holiday.
"The markets are on edge over potential measures to intervene in the rupee's weakness," said Sue Trinh, head of Asia foreign-exchange strategy at Royal Bank of Canada in Hong Kong. "Broader momentum-driven liquidation in dollar longs is also at play," aiding the Indian currency's advance, she said.
Decreasing pace of inflation is a welcome piece of news for the Reserve Bank of India, which is under duress to take stronger action to defend the rupee, after having already depleted billions of dollars of reserves in trying to do so. The currency has continued to set one record low after another amid a broader emerging-market meltdown.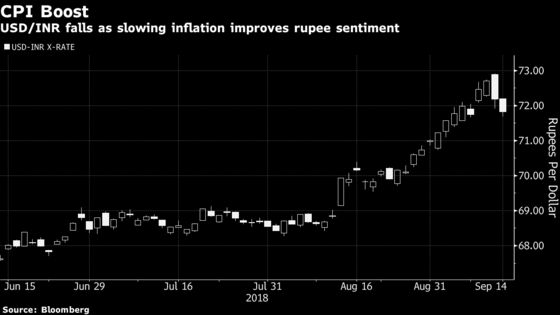 The rupee jumped 0.5 percent to 71.8550 per dollar, adding to Wednesday's 0.7 percent advance that was its largest since May 25. The yield on India's benchmark 10-year bonds dropped one basis point to 8.13 percent, after falling five basis points on Wednesday. The key S&P BSE Sensex gauge of stocks climbed one percent.
Authorities will aim to manage the pace of the rupee's weakness instead of changing its direction, Rohit Garg and Adarsh Sinha, strategists at Bank of America Merrill Lynch, wrote in a report. Viable options for that could include limits for net-open positions, ring-fencing oil importer purchases and import duties on luxury goods, they wrote.
The government is not ruling out an increase in interest rates, an official told reporters in New Delhi on Wednesday, asking not to be identified citing rules. Such a measure may be announced after a planned review of the economy by Prime Minister Narendra Modi this weekend, the person said. The RBI has already raised rates to the highest level in two years.
The rupee selloff has also resulted from surging oil prices -- one of India's main vulnerabilities -- and it threatens to worsen the government's finances and impinge on companies' borrowing costs.