Malta Beats Out Hong Kong for World's Top Home-Price Gains
(Bloomberg) -- Malta has edged out Hong Kong to take the prize for territory or country with the highest residential price gains in the June quarter, according to a Knight Frank LLP Global House Price Index published Friday.
Home prices in the tiny Mediterranean island rose 17 percent in the three months to June from a year earlier, Knight Frank said, citing data from the nation's central bank. A dearth of supply combined with a robust economy that grew 6.6 percent last year and a buoyant tech industry is pushing up demand.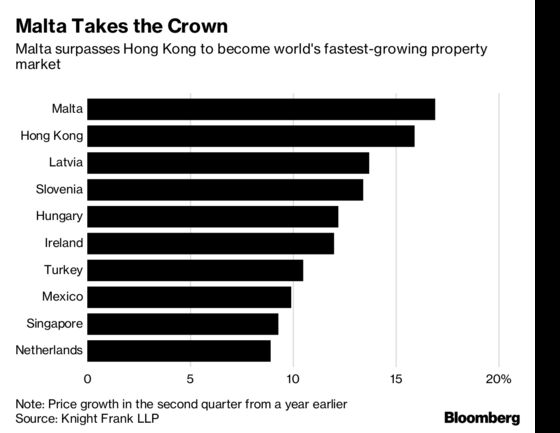 Hong Kong, the world's least-affordable housing market, came in second, with price increases of 16 percent. It's led the index's rankings on 10 occasions since 2009 but is expected to cool in coming months as a result of rising interest rates, Knight Frank said. Along with Singapore and New Zealand, the former British colony has seen fresh property market cooling measures introduced over the past three months.
"Uncertainties resulting from the trade war and potential mortgage-rate hikes are adding downward pressure on prices" in Hong Kong, Alva To, vice president for greater China at Cushman & Wakefield Plc, said at a media briefing Thursday.
Cushman & Wakefield expects a correction in Hong Kong's property market in 2019, adding to comments from private-equity firm Gaw Capital Partners to CLSA Ltd. that prices may drop as much as 15 percent.
Rounding out the top five spots are Latvia, Slovenia and Hungary, which all registered double-digit price growth.
At the other end of the spectrum are Ukraine, Peru and Saudi Arabia, where residential prices in the June quarter dropped 4.5 percent, 1.6 percent and 1.3 percent respectively. Knight Frank's Global House Price Index tracks mainstream residential prices across 57 countries and territories.