Carney Fights Back Against Critics of BOE's Brexit Warnings
(Bloomberg) -- Mark Carney pushed back on criticism of the Bank of England's response to Brexit, saying that the central bank has a responsibility to avoid complacency even as fresh controversy regarding its forecasts emerged.
In an opinion piece published by the Daily Mail newspaper, the BOE governor said lessons from the financial crisis have informed his approach to the U.K.'s exit from the European Union. He said officials are working to identify risks and solutions to ensure financial stability whatever form Brexit takes.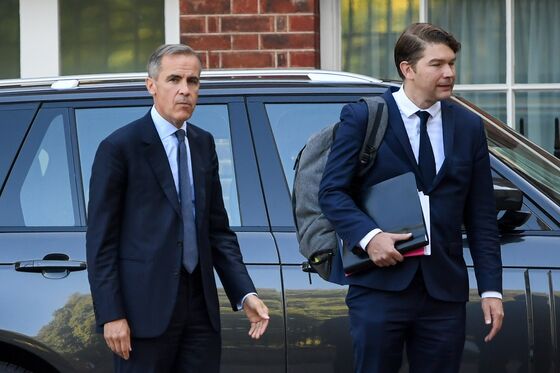 "Instead of believing it's different this time, or hoping that everything will be all right on the night, the Bank of England now thinks about what could go wrong," Carney said. "Some of you may have disagreed with some of the things the Bank has said on this topic. But our job is to prepare for the worst, not hope for the best."
That worst case scenario was outlined by Carney in a briefing to lawmakers Thursday, details of which were reported in the hours before his op-ed was published. The governor told a meeting of the cabinet that a no-deal Brexit could see mortgage rates raised even as economic output and house prices tumble, according to people who asked not to be named because the discussions were private.
Mortgage rates would rise because crashing out without an agreement would lead to a drop in the pound and higher tariffs. That would push inflation higher and force the BOE to lift borrowing costs, Carney told those present at the briefing.
The Treasury this week asked Carney to stay on as governor longer than he had planned to help with the transition out of the EU next year.
Carney's article also addressed criticism of the central bank's decision to cut interest rates and renew some quantitative easing in the wake of the crisis, saying that it helped safeguard jobs.
"This may not have been a popular policy among some savers, but the truth is that it has helped the U.K. economy to recover from the financial crisis much more quickly," he said.