Carney Says BOE Is Prepared for Whatever Happens in Brexit
(Bloomberg) -- Bank of England Governor Mark Carney used a speech in Dublin to underscore his message that the central bank is prepared for all Brexit scenarios.
While much of the speech focused on structural changes in the economy, prompted by changes to the workforce precipitated by advances in artificial intelligence and automation, Brexit presents a more immediate challenge, he said.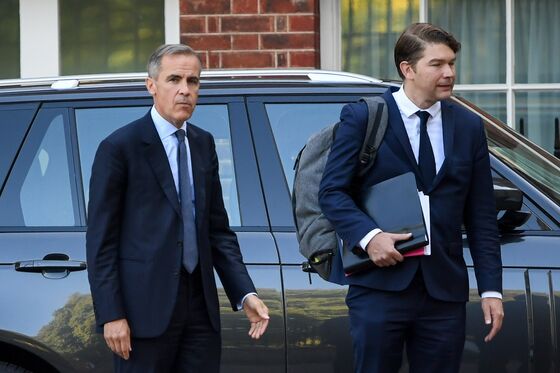 Though changes in the labor force "may be felt over the coming decades, some of the Brexit effects on supply may be much more immediate," the governor said. "The Bank of England is well-prepared for whatever path the economy takes, including a wide range of potential Brexit outcomes."
Carney was pushed back into the media spotlight after reports he gave government ministers a stark warning of the dangers of a no-deal Brexit at a briefing on Thursday. He said the U.K. could see mortgage rates rise even as economic output and house prices tumble, and a fall in the pound and higher tariffs that would push inflation higher.
While he told the audience in Dublin that the BOE will respond as needed to bring price growth back to target, he also said that the appropriate policy response is not automatic and will depend on the balance of the effects on demand, supply, and the exchange rate.