Two Hedge Fund Hotels Will Be Heavily Traded Today: Taking Stock
(Bloomberg) -- While the S&P 500 is three-for-three on days in the green this week (e-minis are up several handles so far this morning), the index is still down 0.4% in September. The Nasdaq is in much worse shape, falling almost 2% month-to-date as the tech space takes an extended breather on a breakdown in the semiconductors space.
The ask for a new round of seemingly higher-level-than-last-time talks with China lifted the broader tape midday Wednesday (China said today it's hammering out the details for the meeting) and helped overshadow a batch of trade war impact warnings from the likes of Goldman and JPMorgan in addition to Ray Dalio talking about an economic downturn in two years, Gundlach seeing potential for the S&P 500 to end the year lower than where it started, and one firm calling for a possible "Hindenburg Omen" negative technical signal -- all calls that tie in beautifully with the recent rotation into more defensive sectors like the utilities and consumer staples.
It's relatively quiet in the stock market this morning, so I'll offer two long-reads, the first from our team titled "We're Living in What May Be the Most Boring Bull Market Ever" (this is a Businessweek story which features an uber-elongated CGI bull on the cover) and the second from The Atlantic "A Warning From Europe: The Worst Is Yet to Come," with this dark subhead: "Recent events in the United States follow a pattern Europeans know all too well."
Hedge Fund Hotel Volatility
Two must-know moves on a couple of hedge fund hotels this morning are:
Radio frequency identification name Impinj (~36% hedge fund ownership with holders like Sylebra, Ice Pond Lane, GMT Capital, AWM Investment) is soaring 36% in early trading after an audit committee dismissed a former employee's complaint. This stock has been on a roller coaster since peaking in the summer of 2017, and the removal of this overhang may just be the catalyst to get a real recovery in the name.
Pivotal Software (~18% hedge fund ownership with holders like Steadfast, Alkeon, Tiger, Citadel), is tanking more than 25% on a shortfall in the billings print. This is a high-flying tech stock that's been on a high-flying uptrend ever since the IPO in April. Analysts are already backing up the truck to reaffirm their bullish theses given otherwise strong guidance figures from the report.
Big Names at Today's Conferences
Conference season continues to shake up the markets, with names like semi darling AMD popping minutes after the CFO began speaking at the Deutsche Bank tech conference, 3M giving up all of its gains on a slew of cautious comments (this spilled over to sympathy weakness in Honeywell, Illinois Tool works, and the like), and SunTrust leading the regional banks lower after talking down its near-term net interest margins outlook.
Big-name conference presentations that could make some waves today include chip bellwether Texas Instruments at Deutsche (any incremental commentaries out of the semiconductors will make a splash at this point), PayPal at Deutsche (first we're hearing from them since July earnings), Emerson at Morgan Stanley (CEO David Farr always gets attention from the Street), both Vodafone (Deutsche said to buy the stock ahead of new CEO striking a "reassuring tone") and Take-Two (after a recent warning from video game peer Electronic Arts) at Goldman, and JPMorgan at Barclays (though this won't be Dimon or his rants on beating Trump).
The calendar at the bottom of this note has a much bigger list. As usual, it could always be one of the non-megacaps that could take down a sector, like when KLA-Tencor broke the semis last week. And that group hasn't recovered yet, as can be seen by the chart below, though it does look like the SOX is testing decent support at the 200-day moving average (even though Wolfe's technicals guru said the group "looks broken" in a note yesterday).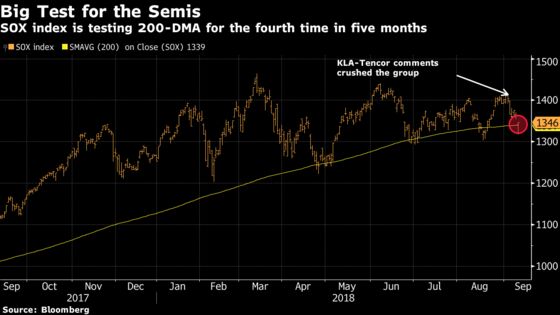 Notes From the Sell Side
Here's some of the key takes on Apple and related stocks from the iPhone launch (read the full Street Wrap here):
The bulls:

Morgan Stanley's Katy Huberty says to buy Apple after the event, citing higher iPhone ASPs and dual-SIM as positive surprises; SOTP-based price target is raised by a couple bucks to $247
Needham boosts its Apple target to $260, noting that the best news was on release windows (most expensive iPhones will be available five weeks before the cheaper ones), churn stats, and ecosystem lock-in

The skeptics:

Nomura is cautious on the higher ASPs ("one can fly too close to the sun" is a direct quote from the note) as they expected Apple to restrain price boosts given underwhelming sales of not only the iPhone X but also Samsung's nearly $1,000 S and Note models
SMBC Nikko said the new iPhones won't result in a major change in sales volumes for the mature smartphone market, which is in a "no cycle" state rather than entering any sort of "supercycle"

The lateral plays:

In regards to the supply chain, Keybanc says the new phones are most positive for Qorvo, Skyworks and Synaptics while the removal of the dongle from new and previous models creates the most headwinds for Cirrus
On Universal Display, Goldman says the launch of two OLED phones in this product cycle supports a longer-term OLED adoption curve and reiterates its buy on the stock with upside of more than 20% to its price target of $150
On iRhythm, JPMorgan says to buy the dip on a closer look at the new Watch, which suggests the new FDA-approved ECG scanner poses almost no competitive threat to IRTC's offerings
On T-Mobile, Keybanc sees upside to sub guidance after a tweet from CEO John Leger said the new iPhone models will include 600 MHz spectrum, which is something that the company has aggressively built out
A day after Snap cratered 7% to a record low on a brutal sell downgrade from BTIG, a former bear is now saying enough is enough. Pivotal Research's Brian Wieser upgrades the stock from a sell to a hold after the shares breached his prior price target of $9, but the tone isn't exactly one of extreme optimism: "Risks are still present, especially in the near-term – and towards that end, the stock could still fall from here – but overall we think that at current trading levels those risks are balanced by long-term potential."
BofAML slashes its rating on Wayfair to a neutral ahead of likely growth deceleration and mounting investments into 2019. Sees a 3Q beat as already priced in while the 4Q guidance has added risk on 700bps tougher y/y comps.
Bernstein initiates Tesla rival NIO, which went public yesterday, with an underperform rating and a price target of $4.20, which is way below its IPO price of $6.26 and Wednesday's close of $6.60. Cites skepticism that NIO can meet its volume targets and expects the company to seek additional funding within 12-18 months of the IPO.
And here's a serious out-of-consensus call on a smallcap company: Empire Asset Management has started coverage on $567m market cap Xeris Pharmaceuticals with a sell rating and a Street-low price target of $10, which implies 63% downside to the last close. Part of the thesis banks on the company's Glucagon Rescue Pen not becoming the financially successful product that appears to be expected by the Street.
Tick-by-Tick Guide to Today's Actionable Events
7:45am -- ECB rate decision
7:45am -- KR earnings (roughly)
8:00am -- VZ at Goldman Communacopia conference
8:00am -- CZR at BofAML gaming and lodging conference
8:00am -- BHC, ISRG at Morgan Stanley global health care conference
8:30am -- Aug. CPI, Initial Jobless Claims
8:30am -- ECB's Draghi holds press conference
8:35am -- CVS, WCG, BSX at Morgan Stanley global health care conference
8:45am -- UPS analyst meeting with transformation update
8:50am -- VOD at Goldman Communacopia conference
9:00am -- AJG investor meeting
9:00am -- PEB call to discuss LHO deal
9:45am -- Bloomberg Consumer Comfort
10:00am -- JNJ pharmaceutical business update call
10:00am -- KR earnings call
10:00am -- AGN at Morgan Stanley global health care conference
10:30am -- EIA natgas storage
10:30am -- TTWO at Goldman Communacopia conference
11:00am -- ALGT investor day
11:00am - EMR at Morgan Stanley Laguna conference
11:00am -- STM, ACIA, FDC at Deutsche tech conference
11:10am -- BMY at Morgan Stanley global health care conference
11:20am -- SIRI at Goldman Communacopia conference
11:45am -- AGCO at Morgan Stanley Laguna conference
12:00pm -- Appaloosa's David Tepper to appear on CNBC's noon hour
12:00pm -- ATTU investor day
12:20pm -- TXN, ZS at Deutsche tech conference
12:20pm -- BLUE, ALNY at Morgan Stanley global health care conference
1:00pm -- PSDO investor day
1:05pm -- JPM at Barclays global financial services conference
1:15pm -- Fed's Bostic gives speech on economy and monetary policy
1:15pm -- TEN at Morgan Stanley Laguna conference
1:30pm -- SBUX CEO Kevin Johnson on Bloomberg TV
1:40pm -- Uber CEO Dara Khosrowshahi on Bloomberg TV
1:40pm -- PYPL at Deutsche tech conference
2:00pm -- Monthly Budget Statement
2:00pm -- Paul Ryan delivers Reagan Institute's inaugural address
2:00pm -- IR, NOC, NEM at Morgan Stanley Laguna conference
2:00pm -- COF at Barclays global financial services conference
2:00pm -- MGM at BofAML gaming and lodging conference
2:40pm -- LVS at BofAML gaming and lodging conference
2:55pm -- PFE, ONCE at Morgan Stanley global health care conference
3:00pm -- CSCO at Deutsche tech conference
3:30pm -- UAL at Morgan Stanley Laguna conference
3:35pm -- UPS CFO Rich Peretz on Bloomberg TV
3:50pm -- CY at Deutsche tech conference
4:05pm -- ADBE earnings
4:35pm -- IPG, LBTYA at Goldman Communacopia conference
5:00pm -- ADBE earnings call
7:00pm -- AMZN's Bezos at Economic Club of Washington D.C. event
8:20pm -- Baltimore Ravens at Cincinnati Bengals (pick em)
10:00pm -- China industrial production, retail sales, fixed assets
Tonight -- IPOs scheduled to price: Qutoutiao (QTT), Principia Biopharma (PRNB)