Turks Reap Billion-Dollar Bonanza From Erdogan's Rate Show
(Bloomberg) -- In a remarkable display of choreography, Turkish President Recep Tayyip Erdogan banned the use of dollars in most contracts, railed against high borrowing costs and then stood back as his central bank announced the biggest rate hike of his rule.
The end result of Thursday's show was a rally in the ragged lira that cut the cost of dollars by more than 4 percent -- prompting Turkish bargain-hunters to snap up about $1 billion in an hour. That compares with an average of $400 million a week in net selling since the start of this year.
Now Erdogan, long derided for his contrarian view that cutting rates slows inflation, is suddenly being lauded for allowing monetary authorities to follow orthodox prescriptions for common ills -- all while enhancing his reputation as the defender of small businesses struggling with the rising price of money.
"It's a clever move," said Anthony Skinner, a director with U.K.-based forecasting company Verisk Maplecroft. "By saying the central bank is independent while criticizing it for misguided policies, Erdogan is pointing the finger of blame at the central bank."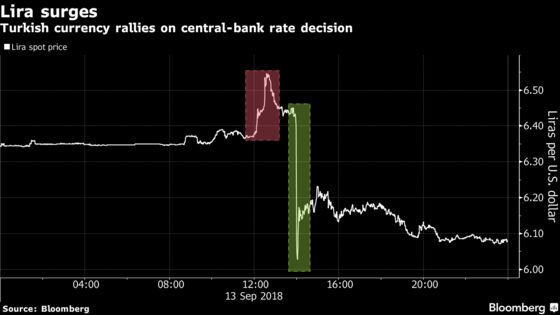 The bank increased its one-week repo rate to 24 percent, a jump of 625 basis points that was almost double what forecasters expected.
The surprise move buoyed markets that had been mired in a slump for months, triggered by a diplomatic row with the U.S. and then amplified by central bank inaction.
The lira held the gains on Friday, trading little changed at at 6.0811 per dollar at 12:40 p.m. in Istanbul. The yield on the government's 10-year lira bonds fell to a six-week low, and stocks gained.
Turkey's troubles have helped fuel an investor exodus from emerging-market assets worldwide -- including from the Argentine peso and South African rand. Rising U.S. interest rates have discouraged the riskier reach for yield, deepening home-grown crises.
Before the central bank's decision in Ankara, the run on the currency forced it to raise rates where it could without further damaging the prospects for economic growth. The bank increased the cost of cash to commercial lenders by around 150 basis points last month by forcing them to use a borrowing tool costlier than the one-week repo rate.
Taking that into account, the latest hike will result in an additional tightening of 475 basis points, somewhat less than the headline number suggests. What's more, the initial reaction to the increase from local investors shows the currency still faces an uphill struggle.
Turkish companies sit on a net foreign-exchange shortfall of $216 billion, and analysts say they are likely to view any bouts of lira strength as an opportunity to rebuild their dollar reserves, slowing any gains. Still, the central bank deserves credit for doing the right, if unpopular, thing, according to BlueBay Asset Management LLC strategist Tim Ash.
"It was a great decision," Ash said.
Earlier in the day, Erdogan sowed confusion throughout the business community by publishing a decree making the lira the only currency that can be used in contracts between Turkish entities. Many of his government's own contracts, including for building motorways and operating airports, are currently priced in dollars or euros.
All agreements that are either priced in or indexed to foreign currencies will have to be amended within 30 days, though some will be exempt, according to the decree. The government has yet to clarify the new rules.
The measure will create "total chaos" and probably can't be implemented within the allotted time frame, said Hulusi Belgu, head of the national shopping-mall association. He said his industry has $15 billion of debt and 70 percent of all rent contracts are priced in foreign currency.
It's common in Turkey, a country that's long struggled to contain inflation, to index prices in dollars or euros for everything from cars to legal services. About half of the Turkish banking system's deposits are in foreign currencies.
Erdogan told a group of craftsmen and merchants that Turkey is fighting an economic war and tough times require tough measures. He was speaking in a televised address after the decree on contracts was published and before the rate decision was announced.
"Anyone who is not involved in exports or imports shouldn't see his path intersect with foreign currencies," the president said.
Erdogan also used his speech to attack the central bank for consistently missing its inflation targets, and faulted policy makers for failing to see what he considers to be the true relationship between the cost of credit and consumer prices.
"Interest rates are the cause and inflation is the result," the Turkish leader said. "If you think inflation is the cause and interest rates are the result, it means you don't know about this matter, my friend."
On Friday, Erdogan resumed his attack on the central bank, saying his "patience" with the regulator's policies has limits.
"We will see the results of the independence" of the central bank, he said.