Oil Declines as Supply Fears Ease, Trump Tweets on Chinese Trade
(Bloomberg) -- Crude slid the most in almost a month as global supply concerns receded and a demand-killing trade war intensified.
Futures dropped 2.5 percent in New York on Thursday. Even as Iranian crude exports shrink, it's uncertain whether Saudi Arabia and other major producers can or will fill any shortfalls, the International Energy Agency said. Meanwhile, U.S. President Donald Trump tweeted that Chinese markets are "collapsing" as a result of his hardline stance on trade relations between the world's largest economies.
"Markets are still fairly well supplied," said Ashley Petersen, lead oil analyst at Stratas Advisors LLC in New York.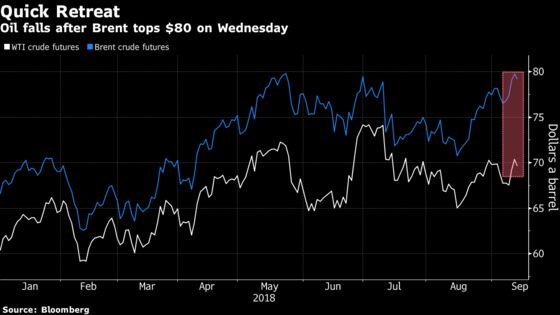 Oil topped $80 a barrel in London on Wednesday and the U.S. benchmark crude's almost 14 percent year-to-date advance has already outstripped its 2017 performance. OPEC highlighted a range of risks brewing in the global economy that could hurt oil demand as producers prepared for a meeting later this month in Algiers.

West Texas Intermediate futures for October delivery declined $1.78 to settle at $68.59 a barrel on the New York Mercantile Exchange. Total volume traded was about 17 percent above the 100-day average.
Brent for November settlement slid $1.56 to end the session at $78.18 a barrel on the ICE Futures Europe exchange. The global benchmark traded at a $9.77 premium to WTI for the same month.
The outer bands of Hurricane Florence reached the Carolina coast, bringing stinging winds and lashing rain. Florence is still 110 miles (177 kilometers) east-southeast of Wilmington, North Carolina, where it's expected to make landfall overnight.
Some other key oil-market figures, news and events:
Gasoline futures fell 2.1 percent to settle at $1.9929 a gallon.
If Brent crude settles above $80, that may be a catalyst for a rapid move higher, possibly to the low $90s, according to Investec.
Matador Resources Co. was the anonymous purchaser of drilling rights in the U.S. Permian Basin for a record $95,001 per acre.
Venezuelan oil production could tumble to just 1 million barrels a day by the end of the year, the IEA said.