Italy's Budget Battles Fan Speculation Over Tria's Fate
(Bloomberg) -- Italy's populist coalition showed further strains over the budget, with speculation mounting that disputes over spending are undermining Finance Minister Giovanni Tria's position.
La Stampa newspaper reported on Thursday that Tria threatened to resign following constant pressure from the Five Star Movement over its promise to fund a basic income for the poor. Five Star denied a report on Italy's Ansa newswire that it would seek Tria's removal unless it received at least 10 billion euros ($11.6 billion) in the 2019 budget to pay for the measure. A Finance Ministry official said the reports of a possible Tria resignation were unfounded.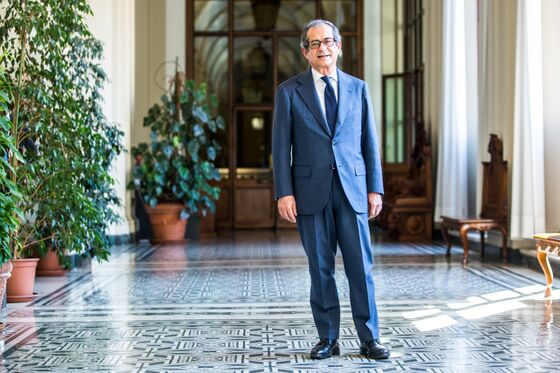 The reports reflect jostling over spending between Italy's unlikely coalition partners: the anti-establishment Five Star led by Luigi di Maio, with its focus on helping the disadvantaged; and Matteo Salvini's League, an anti-immigration, EU-skeptic force with a tax-cutting agenda that appeals to its base in the more prosperous north.
Those inherent contradictions -- baked in since the two parties allied to take power this spring -- are playing out in deliberations over next year's budget, with the tussle amplified by Italy's precarious fiscal situation sitting atop a vast debt load second only in the euro area to Greece.
Di Maio said there was no rift with Tria and that everyone is
working together with the finance minister on the government's program, Ansa reported Thursday. Di Maio "categorically denied" threatening or issuing any ultimatums to Tria.
Italian bonds yields rose at the open in Milan. Two-year yields rose 4 basis points to 0.825 percent. The spread between 10-year Italian and German bonds widened to 257 basis points.
La Stampa, citing sources in the prime minister's office, said that Tria is "sick and tired of being the target of outbursts" from Five Star over its plans for a so-called citizen's income.
"If I am the problem, tell me, and let's all assume the consequences," La Stampa quoted Tria as saying in a telephone call Wednesday with Prime Minister Giuseppe Conte. Tria told Conte he was "ready to step back immediately," newspaper la Repubblica reported.
La Stampa said Tria himself brought up the possibility of quitting.
The citizen's income is one of a number of costly election promises that have unnerved investors, with the coalition having also proposed changes to pension legislation and tax reform.
"It's true that there are discussions within the cabinet, as citizen's income is our flagship proposal," Five Star Senator Laura Bottici said by phone on Wednesday. "Yet, I don't really think that Tria will resign on this or that this will cause the government to fall."
Italy is expected to set new public finance and economic growth targets by Sept. 27, followed by a draft budget which needs to be submitted to the EU by mid-October