Florence's Wrath Hits Carolina Coast, With Worst Still to Come
(Bloomberg) -- Hurricane Florence weakened slightly on its way to the Carolinas, still battering the coast with water and wind and threatening to unleash widespread destruction.
Life-threatening storm surges and hurricane-force winds were occurring along the North Carolina coast at around 11 p.m. local time Thursday. Florence was moving with maximum sustained winds of 90 miles (145 kilometers) an hour, bringing its strength down to a Category 1. Weeks after forming off the African coast, it's now 60 miles east-southeast of Wilmington and is forecast to finally make landfall Friday.
Lashing winds and stinging rains crashed into waterfront towns including Wilmington and New Bern, causing floods ahead of what's expected to be a deadly 11-foot (3.4-meter) surge. Florence is also forecast to drench parts of the Carolinas with as much as 40 inches of rain, producing catastrophic flash flooding, according to an advisory from the National Hurricane Center.
About 27,000 Duke Energy Corp. customers have already lost power -- as many as 3 million may eventually be in the dark for days or even weeks.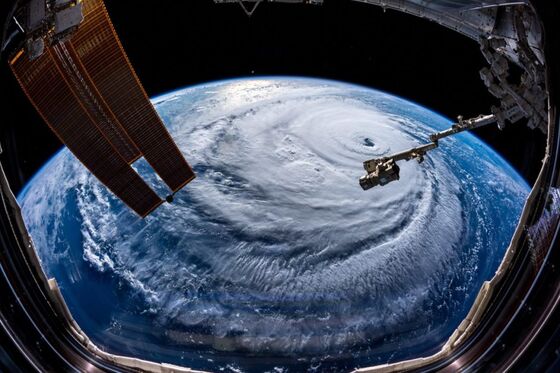 What the hurricane "has now lost in terms of maximum wind speeds near its center, it has now gained in terms of sheer expansiveness," said Peter Mullinax, a meteorologist at Planalytics. "This will be one of the worst storm surge events likely in North Carolina's history."
The total bill for damage from Florence could eventually reach $10 billion to $20 billion, said Chuck Watson, a disaster researcher at Enki Research in Savannah, Georgia. Hundreds of thousands of people have evacuated the coast, more than 1,500 U.S. flights have been canceled, factories were shut and farmers rushed to save crops, poultry and pigs in anticipation of the storm.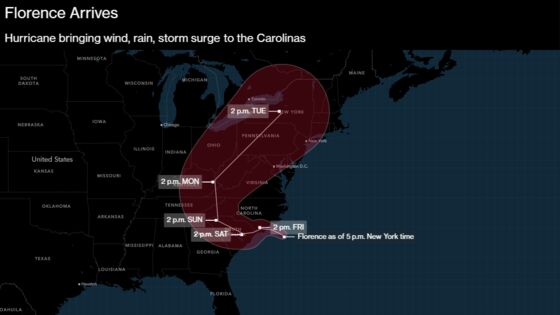 Tens of thousands of structures are expected to be flooded by storm surge alone, North Carolina Governor Roy Cooper said at a press conference Thursday. "Our greatest concern about this storm remains the same -- storm surge and massive flooding," he said.
Florence is menacing the U.S. coast just as Super Typhoon Mangkhut is threatening to spur chaos in parts of Asia. The Philippines placed the main Luzon island under storm alert and said as many as 824,000 Filipinos may have to be evacuated before the storm hits land in the northern province of Cagayan overnight.
Little change in strength is expected before Florence moves inland, according to the NHC. On the forecast track, the center of the storm is expected to move inland across extreme southeastern North Carolina and extreme eastern South Carolina Friday and Saturday. It will then recurve across the western Carolinas and the central Appalachian Mountains early next week.
Once the center moves inland, the intensity of the hurricane is forecast to decrease, according to a forecast discussion posted on the NHC's website. Florence should weaken to a tropical storm after 24 hours and then below tropical storm strength after 48 hours.
"We're still going to get catastrophic inland flooding from heavy rains and multibillion-dollar storm-surge damage along the coast where it hits,'' said Jeff Masters, co-founder of Weather Underground Inc. in Ann Arbor, Michigan.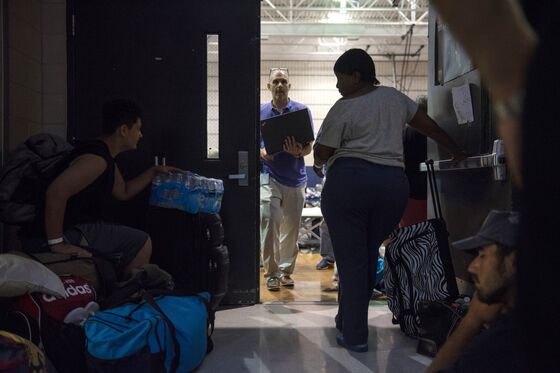 Keith Beavers, a farmer in Duplin County, North Carolina, was rushing on Thursday to harvest as much corn as he could ahead of the storm. He still has peanuts, soybeans and sweet potatoes in the ground. And while he's managed to pull tobacco leaves from the field, he's concerned because they require curing in a barn with power.
"If this thing comes inland and stops in eastern North Carolina like they forecast it, and we get two days of continuous rain, the rain will be our biggest damage," he said. "It's discouraging to see a crop you worked with all year long, nurture it, plant it and see it destroyed."
North Carolina is the largest tobacco grower and ranks second among U.S. states in hog inventory and producing broiler chickens. CoBank ACB, an agricultural lender, estimates damage to North Carolina farming could hit $1 billion before the storm slows.
Along with agriculture, the Carolinas stand as an important regional hub for banking, technology, manufacturing and transportation, accounting for about 4 percent of U.S. gross domestic product, according to a Bloomberg U.S. economic analysis. The path may affect more than 4,000 manufacturing and distribution facilities, potentially hurting sectors including auto-parts and packaged foods, according to Bloomberg Supply Chain data.
Charlotte, home to Bank of America Corp. and several regional banks, is expected to face monumental amounts of rain.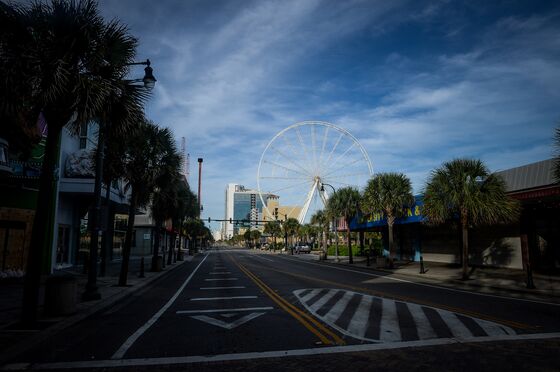 Operations at the ports of Wilmington, Charleston, South Carolina, and Norfolk in Virginia, which together handled 23 percent of East Coast imports in 2017, have been disrupted by the storm.
"Florence is still a dangerous storm," said Rebecca Fuller, a meteorologist with Radiant Solutions in Gaithersburg, Maryland.